TOP 10 COACHES IN BATTLE FOR TROPHY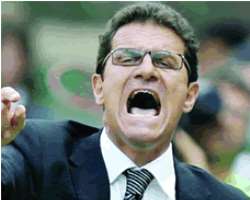 Fabio Capello, England coach
Every coach who knows his trade is a veritable asset to his team's hope and aspiration. In the football confraternity, the coach is adjudged to be the 12th player in his squad's line up. Analysts believe that it takes a good coach an average of 15 minutes to read and understand a game and what each player is doing on the pitch. With a good coach around, a good bench is made. He fashions out strategies to crush the opposing side, he brings winning options to outplay his opponent. No wonder a good coach is right on his feet always as action goes on?
Between June 11 and July 11, the world would be seeing the best of coaches and coaching act at the 2010 FIFA World Cup in South Africa. Gaffers of class and clout would be locked up in battle of the bench. Based on their past achievements, for clubs and countries, they would be giving the game its glamour and panache.
Behold the 10 top coaches to make things happen at the Mundial.
Marcello Lippi – Italy
Marcello Lippi, 62, takes to South African pitches as the tournament's defending champion. The former Sampdona midfielder and Napoli, Inter Milan and Juventus manager, clinched the 2006 World Cup in Germany for Italy. Earlier, he had won the prestigious UEFA Champions League trophy in 1996 with Juventus.
The same year, he won the European Super Cup and the Intercontinental Cup. He has won the Italian Serie A title on several occasions. He served as Italy's coach from 2004-2006 and was reappointed in 2008, thereby succeeding Roberto Doonadon. Highly revered as a tactician of class, he goes into the tournament as the only coach that has won both the World Cup and the Intercontinental Cup on two occasions.
Carlos Alberto Parreira – South Africa
Carlos Alberto Parreira, 67, is every inch a World Cup veteran. In 1994, he lifted the Cup with Brazil and played a role at the 2002 edition with Brazil.
At the 2006 edition, he lost with Brazil at the quarterfinal.
Before now, Parreira, highly respected for his knowledge of the game, had worked with national sides of Kuwait in 1982, United Arab Emirates (UAE) in 1990, and Saudi Arabia in 1998. And on four occasions, he had taken the national teams of the countries to the World Cup.
Parreira was contracted by South Africa to lead the Bafana Bafana to the 2010 edition of the Mundial in 2007. He returned to Brazil in 2008 citing domestic problems.
He later returned in 2009 to continue from where he stopped and would be in commending height when South Africa seeks glory on home soil.
Lars Lagerback – Nigeria
Lager Lagerback is not new to the big state. Since 1997, he has been actively engaged in coaching. He began his career in coaching at the cadet category and was respected for raising world stars for Sweden.
He took Sweden to the Euro 2000, but lost at the group stage. Two years later, he played at the 2002 edition of the World Cup with Sweden. He featured at Germany 2006 edition, but lost out at the knock out stage. He took Sweden to Euro 2008, but could not make impact. His end of the road in Sweden seemed to have come when he couldn't qualify the country from the Euro zone for the 2010 edition.
On February 26, 2010, he signed for Nigeria and will guild the Super Eagles in its campaign. Give it to Lagerback, he has the dept and drive to make the team perform well in South Africa 2010.
Otto Rahheged – Greece
Otto Rahheged, 71, heads to South Africa to show that the qualification of the Greeks after winning a crunchy play off with Ukraine was no fluke. The German, who has been with Greece since 2001, proved his worth when he smashed Portugal to lift the Euro Cup in 2004.
The former Bayern Munich and Werder Brumen manager had won the German Bundelisga on three occasions, same for the German Cup. Known for erecting resolute defence profile, he would be proving a hard nut to crack to opposing teams.
Fabio Capello – England
Expectations are that Fabio Capello will hand England her second World Cup title since 1966. The Italian is the second foreigner to lead the Three Lions after Svan Goran Ericksson.
The former Roma, Juventus and AC Milan midfielder had proved his mettle as manager of his former teams, having won the Seria A titles with them on several occasions.
He won the Spanish La Liga with Real Madrid twice, the first being in the 2006/07 season. He was given BBC Sports Personality of the Year, Coach of the Year Award in 2009. He brings lots of club football experience to bear on his first-ever country football assignment.
Radomir Antic – Serbia
Radomir Antic is known as a turn-around tactician. He once pulled Real Oviedo form the brink and kept it in the top-flight. He was appointed Serbia manager two weeks before the kick off to the qualifiers, but he ended up crowning Serbia winner of the group.
Antic is an all-attacking coach, who believes in the power of youth. He is ready to experiment and often times his moves have pay off.
Carlos Queiroz – Portugal
Carlos Queiroz would be digging deeper into his master, Sir Alex Ferguson's bag of many tricks to produce a flying formula for Portugal. The 57-year-old is a success at youth football having won the World FIFA Youth Championship in 1991 with Portugal and in 1989. He once won the Spanish Super Cup with Real Madrid in 2003/04 season. Having been with Portugal since 2008, he would be returning to South Africa, a familiar terrain after managing the Bafana Bafana from 2000-2002. With the array of stars at his disposal, he looks to give Portugal a good outing at the Mundial.
Dunga – Brazil
Brazil's manager, Dunga, comes through as a consummate defensive midfielder right from his days at Inter Milan. With no coaching experience, he was handed the Brazil assignment, replacing Carlos Alberto Parreira in 2006. Since then, Dunga has learnt fast and has so far raised his game. Analysts believe he is gradually casting himself in he mode of Brazil's legend, Luiz Filipe Scolari. Within a short time, he has won the Cope America, beating Argentina to lift the title. Last year, he added the FIFA Confederation Cup to his accolades. He has a tall mountain to climb, but he will fall back to his international experience and the consistency in the Brazilian squad to succeed.
Vincente de Bosqne Gonzalez – Spain
Vincente de Bosqne Gonzalez is a coach of immense tactics. Soon after he was appointed coach of Spain in 2008, he quickly stormed to winning streaks, a feat that is still being talked about in football circles. He is a twice UEFA Champions League winner with Real Madrid in 1999/00 and 2001/02 seasons, adding the Super Cup to his haul in 2002. He has also won the Spanish La Liga on five occasions. Under his watch, Spain remains a strong contender to the trophy Italy would be defending.
Ottmar Hitzfeld - Switzerland
Ottmar Hitzfeld would be giving Switzerland lots of hope and character when he meets his opponents at the quadrennial event. The 61-year-old had seen football at the very highest level.
At the club level, he is a huge success, having won the UEFA Champions League twice with Bayern Munich and Borrusia Dortmund, adding the Intercontinental Cup in 2001. He has won he Bundelisga five times and German Cup thrice in addition to other domestic titles with FC Basel, FC Aarau and Grasshoppers all in Switzerland.
Inspiring Switzerland to finish top in her group in the European zone tells a lot of the managerial experience of Hitzfield.