Arsenal tear through Everton for first Premier League away win of the season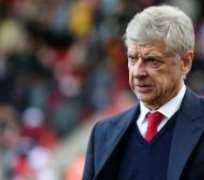 Three quick thoughts from Goodison Park as Arsenal rout Everton 5-2 on Sunday.
1. Arsenal impress on the road at last
Arsenal are back on track, and for the second time in four days, they proved their resilience in testing conditions. Having fallen behind to an early Wayne Rooney goal at Goodison Park, they settled down, regrouped and came back to secure a deserved win, their first on the road in the league this season.
With their 1-0 win in Belgrade putting them in a commanding position in the Europa League, this campaign is not yet the write-off they feared when they were dismantled at Anfield in August. For Everton, five games without a win in all competitions, the term "write-off" is probably too polite.
Overall, Arsene Wenger will be relieved with this performance. For much of the first half, this seemed to be less of a football match and more a persuasive piece of performance art titled "Why Does This Always Happen To Arsenal?" Aaron Ramsey should have opened the scoring after three minutes, put through by Mesut Ozil only to be denied by the fingertips of Jordan Pickford. Six minutes later Pickford was the hero again, coming out and spreading himself to block Alexandre Lacazette after a mesmerising sortie that saw Ozil and Hector Bellerin dovetail before Ramsey served the ball up on a plate for his striker.
Then came a goal that was so against the run of play that you suspect it has devoted its entire life to undermining the run of play, hassling its family and menacing its friends. Wayne Rooney did something like this to Arsenal just over 15 years ago, and it was just as surprising here as it was first time around.
The Gunners wobbled in shock before gathering themselves and piling on the pressure. Pickford was called into action again and again, parrying shots from all angles though a parry would prove to be his undoing. His failure to gather Granit Xhaka's effort was harshly punished by Nacho Monreal, who drove the rebound into the back of the net. It was no less than Arsenal deserved. They went in at half-time with 17 shots to their name, nine of which had been on target.
It took just seven minutes for Arsenal to make up for their profligacy after that. Sanchez, bane of the Everton fans after his efforts to convince referee Craig Pawson that Ashley Williams should have been dismissed before the break, tossed up a cross and Ozil of all people deftly flicked a header home. Two minutes later, Ramsey wasted a chance to make it three, skying the ball over after Laurent Koscielny (again, of all people) had zipped past Gylfi Sigurdsson.
The dismissal of Idrissa Gueye for a nasty challenge on Xhaka effectively ended Everton's ability to fight back. Ozil, refreshingly effective here, made a cushioning third goal for Lacazette and a fourth would follow via a nice pass from Jack Wilshere and neat finish from Ramsey.
There was still time to ship a silly late goal and then apologise with a fifth of their own through Alexis Sanchez but for a time, it was possible to see Arsenal perhaps as Wenger sees them, free-flowing and confident, winning gleeful "Oles!" from their supporters. Then again, it was only Everton.
Lacazette celeb v Everton 20171022  OLI SCARFF/AFP/Getty Images
2. Everton are in so much trouble
It's increasingly difficult to see a way back for Ronald Koeman now. It's not simply that Everton are flawed; it's that they're flawed on so many levels in so many ways. While some managers remain so consistent in their tactical outlook that a team's shape can be taken for granted, Koeman has tinkered so extensively with Everton that the first five minutes of any match are spent trying to assign a conventional formation to their positioning.
Sunday's game was a case in point. The Blues certainly started with a back three accompanied by two attacking wing-backs, but after that it was something of a mystery. For the most part it seemed to be a midfield comprised exclusively of Gueye with a sort of punctured, inflatable trident of Nikola Vlasic, Gylfi Sigurdsson and Rooney lurching around behind Dominic Calvert-Lewin. Little wonder that Arsenal tore through them like a storm in the first 10 minutes.
The sight of that only midfielder, Gueye, pushing up to snap at Arsenal in possession brought palpitations to the home support, but it also brought the first goal. Xhaka was swamped by the Senegalese international and Rooney took full advantage from range. Calvert-Lewin might have added another shortly afterwards when he challenged Petr Cech, but the ball popped out of their melee and veered agonisingly out of his range. Nevertheless, these were moments entirely incongruous with a first half that Arsenal dominated.
Changes had to be made and Koeman duly obliged, withdrawing Ashley Williams (who had been fortunate not to be sent off) and replacing him with Tom Davies, who had been unfortunate not to be picked in the first place. Finally, Everton's shape was conventional: a 4-2-3-1 and they looked stronger for it. But seven minutes later, they were traliing to Ozil's header. When Gueye was dismissed with 21 minutes to go, hope faded and Lacazette's  coup de grace with 17 minutes to go signalled the departure of scores of home fans.
Those fans missed Niasse's opportunistic late goal, but they won't care too much. They've had enough of this. Frankly, who can blame them?
3. Rooney can't do it alone
There is little doubt that Rooney is on a different level to his teammates. The legs are slowing, but his mind is sharp. He spots openings before they develop, he cajoles teammates to find space that he sees before they do. He thuds around the final third like an ageing boar, snorting and puffing, furious that he can't do more to protect the herd.
Every now and then, there is a flash of something; a goal dug out of yesterday with a sweaty-handled pickaxe and some indoor language. But it's not enough. Not in this team. Not at this time.