Christensen is playing his way into Chelsea's best XI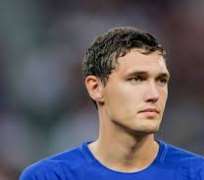 Andreas Christensen is playing his way into Chelsea's best XI in David Luiz's absence. Christensen's recent performances further pave Chelsea's transition to a 3-1-4-2, with he and Luiz working the defensive middle.
David Luiz gifted Andreas Christensen three domestic starts with his red card against Arsenal. Christensen is not exactly repaying the favour. Instead he is showing Antonio Conte why he should remain in Chelsea's starting XI. But if Conte is so inclined, Christensen offers Luiz a place on the pitch in a 3-1-4-2.
Christensen leads the team with a 94% pass completion rate. He has missed only nine passes from 151 attempts. His pass profile, though, is closer to that of Chelsea's central midfielders than his fellow centre-backs. Only 5% of Christensen's attempted passes were over 25 yards, comparable to N'Golo Kante and Tiemoue Bakayoko. However, 12-20% of the attempted passes by each of Chelsea's other four centre-backs were long balls.
The most startling aspect of Christensen's play is his preternatural calmness. He never shows any sign of duress or panic with the ball at his feet, always shepherding the ball out of dangerous area or lurking opponents before delivering a short pass to a teammate. In the centre of the backline, he tends to stay deep while the outside centre-backs advance. He has defensive instincts to go with positional discipline, despite being confident and comfortable in possession.
This combination of traits – particularly in contrast to David Luiz – makes Christensen the ideal defensive midfielder in a 3-1-4-2, with Luiz behind him in the centre of the backline.
When the opponent is in attack, Christensen would be the deep point of a triangle with N'Golo Kante and Tiemoue Bakayoko. This would be a formidable structure that would either force the opposition to the outside to avoid an overload of Blues tacklers. If the play progressed past Chelsea's midfielders, Christensen would transition from being the deep midfielder to the first centre-back.
Once Chelsea retakes possession of the ball in their box, Christensen would be the outlet-and-pivot man. He would gather the ball from his teammates or pick up any loose balls, calmly bring it out of danger and make the short pass to an advancing teammate. Alternatively, he could play tight passes with N'Golo Kante, Tiemoue Bakayoko and the wing-backs to bring Chelsea up-field.
Andreas Christensen would also protect Chelsea's defence from David Luiz's less-conservative tendencies. If (when) Luiz bombs forward on one of his adventures Christensen would drop back into the backline. He would temporarily fill the role he is currently playing. That eliminates the risk of Gary Cahill or Cesar Azpilicueta being caught out while trying to compensate for Luiz's absence. Chelsea would have three defenders in defence at all times, without compromising their offensive thrust.
The 3-1-4-2 is also an ideal formation for Cesc Fabregas. Antonio Conte could swap Christensen for Fabregas after the hour mark to inject his unique form of quality via the passing game. A single substitution that would not require any change in formation could completely change the tone, tactics and pace of the game.
y from the 3-4-3. Most of the adaptations have come amongst the wingers. Eden Hazard's injury necessitated some of these changes, and Antonio Conte is rarely keen to make multiple alterations at one time. With Eden Hazard back to full fitness Conte can shift his evolutions to the defence. Andreas Christensen is a centre-back who plays like a defensive central-midfielder, which could unlock Conte's next masterplan.