Chelsea will blow Arsenal out of the water: Craig Bellamy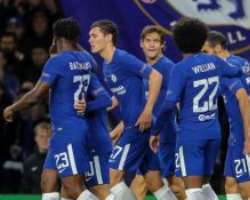 Craig Bellamy claims Chelsea will 'blow Arsenal out of the water' at Stamford Bridge and believes Antonio Conte's side could have the match won within 30 minutes.
After losing their opening game against Burnley, the Premier League champions have recorded three straight victories and head into Sunday's match against the Gunners after hammering Qarabag 6-0 in the Champions League.
Arsenal, meanwhile, recovered from their 4-0 defeat at Liverpool by beating Bournemouth last Saturday.
But Bellamy believes Chelsea will have more than enough to convincingly beat Arsene Wenger's side.
'If Chelsea go about it with any intensity, they'll blow Arsenal out of the water, this game could be over in the first half hour,' Bellamy told Sky Sports.
Arsenal were hammered by Liverpool at Anfield. (Getty Images)
'Of course they can [cause a surprise] but I just can't see it.'
Former Liverpool midfielder Danny Murphy also believes that Arsenal's poor record in big games will count against them at Chelsea.
'They will be a bit wary going away again thinking 'do we protect for a while?' which I've never seen them do, or do they play their normal way and just try to outplay the opposition?' he said.
Can Alexis Sanchez fire Arsenal past Chelsea on Sunday? (Getty Images)
'Because tactically at Liverpool they didn't have a plan, there were no tactics there, you can't play the way the way they did and expect to win games anywhere in the Premier League.
'But Chelsea with the players they've got, if they leave the spaces they did [against Liverpool] for Hazard, Pedro and Willian.
'They've [Arsenal] got quality, can they produce it against the big teams in the Premier League more often than not? No is the answer, if you look at the last three, four, five years.