Arsenal 4-3 Leicester City: Olivier Giroud late header saves day for gunners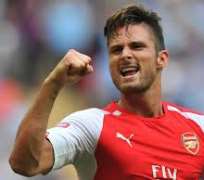 If he had known it was going to end successfully, Arsene Wenger would probably have taken victory in this remarkable fashion.
Better than a comfortable 2-0 coast at home any day. More inspiring than three points taken in the conventional fashion, certainly. Here is something on which to build. A fightback, a show of strength and spirit. Arsenal won with courage and gusto. They can take that to the bank.
A word of warning, though. In doing so, they also papered over more than a few, long-standing cracks. Three crosses, three goals. Wasn't three at the back supposed to guard against that? MATCH FACTS, PREMIER LEAGUE TABLE & PLAYER RATINGS
ARSENAL (3-4-3):  Cech 5.5; Holding 5.5 (Giroud 67, 7), Monreal 6, Kolasinac 7.5; Bellerin 6, Xhaka 6, Elneny 6.5 (Ramsey 67, 7), Oxlade-Chamberlain 7; Ozil 6, Welbeck 7 (Walcott 75); Lacazette 8
SUBS NOT USED: Ospina, Iwobi, Mustafi, Coquelin
MANAGER: Wenger: 8
GOALS: Lacazette 2, Welbeck 45, Ramsey 83, Giroud 85
LEICESTER (4-2-3-1): Schmeichel 7.5; Simpson 6.5, Morgan 6.5, Maguire 7, Fuchs 6.5; Ndidi 7, James 7.5 (Iheanacho 82, 6); Mahrez 7, Okazaki 7 (Amartey 70, 6), Albrighton 7; Vardy 8.5
SUBS NOT USED: Chilwell, Gray,  King, Hamer, Slimani
MANAGER: Shakespeare: 7.5
GOALS: Okazaki 5, Vardy 29, 56
BOOKED: Morgan
REFEREE: Mike Dean 7
ATTENDANCE: 59,387
MAN OF THE MATCH: Vardy
Ratings by Sami Mokbel 
Season at glance

| | Team | P | GD | Pts |
| --- | --- | --- | --- | --- |
| 1 | Arsenal | 1 | 1 | 3 |
| 2 | Bournemouth | 0 | 0 | 0 |
| 3 | Brighton and Hove Albion | 0 | 0 | 0 |
| 4 | Burnley | 0 | 0 | 0 |
| 5 | Chelsea | 0 | 0 | 0 |
| 6 | Crystal Palace | 0 | 0 | 0 |
| 7 | Everton | 0 | 0 | 0 |
| 8 | Huddersfield Town | 0 | 0 | 0 |
| 9 | Liverpool | 0 | 0 | 0 |
| 10 | Manchester City | 0 | 0 | 0 |
| 11 | Manchester United | 0 | 0 | 0 |
| 12 | Newcastle United | 0 | 0 | 0 |
| 13 | Southampton | 0 | 0 | 0 |
| 14 | Stoke City | 0 | 0 | 0 |
| 15 | Swansea City | 0 | 0 | 0 |
| 16 | Tottenham Hotspur | 0 | 0 | 0 |
| 17 | Watford | 0 | 0 | 0 |
| 18 | West Bromwich Albion | 0 | 0 | 0 |
| 19 | West Ham United | 0 | 0 | 0 |
| 20 | Leicester City | 1 | -1 | 0 |

More tables


+35
 So there is work to be done on the training ground. In the meantime, though, here was a result to savour. In a see-saw game, Arsenal were once in front, twice behind, before rallying to level and then win in the final minutes. Their revival was inspired, even if they appeared to catch a break with a Mesut Ozil handball, unnoticed, in the build-up to the third goal.

That should not be allowed to obscure the bigger picture though, which was that Arsenal found a way to break down a Leicester team known for resilience, at least when it suits. Up to that point, they had absorbed pressure well, with new signing Harry Maguire particularly impressive.

Yet, under pressure, Leicester's nerve snapped. They tired, grew slack at the back, looked more like, well, Arsenal. Wenger's introduction of Aaron Ramsey and Olivier Giroud as substitutes proved a master-stroke, too, both men scoring as 2-3 became 4-3. Neither goal was Bergkamp beautiful but, in their way, worth every bit as much as a work of art.

For the first — Arsenal's third —Granit Xhaka recycled a cleared ball and found Ramsey on the right, driving on and stabbing his finish past Kasper Schmeichel.

Daily Mail

SNAKES DO NOT REPRODUCE AMPHIBIANS. By: FRANCIS TAWIAH , Du