HELP BEFORE I COMMIT SUICIDE, CRIES WOMAN WHOSE FIVE MONTH BABY HAS BEEN STOLEN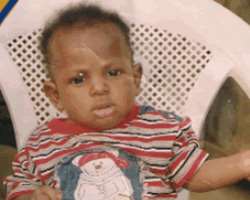 Stolen baby
The whereabouts of a five-month old baby taken away since March 11, 2010 from his residence in Abuja is yet unknown. And the distraught mother, a worker in a construction firm, is so depressed that she is now contemplating suicide.
The story of Mrs. Cecilia Ariko can best be described as hell on earth. The 28- year- old mother and staff of a construction firm in Abuja, had left her home for work on March 11, 2010 like every other day and left her five -month old son as usual with her younger sister, Theresa Oli. Perhaps if she had a premonition that she was going to see her beloved son born on September, 21st, 2009, and who she was still breastfeeding for the last time on that fateful day, she would have taken him along to her work place. But she did not and left for work.
At her work place, the fear that she was going to loose her baby never crossed her mind as she went about her busy schedule until she received a call and bad news from her younger sister that completely shattered her life. Her only child had been kidnapped, allegedly, by their neighbour's girlfriend. The news nearly sent her to an early grave, but she gathered the courage to put herself together and with the encouraging words from her colleagues, she headed home to see things for herself. Her baby was exactly five months, two weeks and three days old when he was stolen.
On getting home, she came face to face with reality. Her baby boy and only child of her marriage was nowhere to be found. Fear immediately gripped her. She began to think of so many horrible things and with the help of her other neighbour's in their compound at Karmo, a satellite town in Abuja , they contacted the kidnapper's boyfriend who rushed back home only to hear the bad news.
Back home, he took the mother of the baby, her sister and other neighbours to Utako village where his girlfriend lived with a friend but on getting there, they were told the girl just left the house only one hour ago and told them she was traveling and that she was so much in a hurry that she did not spend more than ten minutes with her girlfriend who expressed worry at the sudden journey plan. On hearing the latest development, it dawned on them that the baby had been stolen and they rushed to the Utako police station to make a formal report.
The police immediately swung into action and headed straight to the Jabi motor park where they were told the last vehicle that left the park shortly before they came had a woman and a baby. The union officials immediately got in touch with driver and asked him to stop wherever he was, he did. But unfortunately when the police got there, the baby was not Cecilia's and they left for the police station.
At the police station, the kidnappers' friend who hardly knew the woman she was squatting, told the police that her friend had left a bank account number for her to give to somebody that would be coming to ask for her. With that information, the police went to the bank at Utako and narrated the sad event to the bank manager who took pity on the mother and gave the police the details of the account which actually belong to one Blessing Nnenna Udesi. It was discovered that she actually opened the account in Port Harcourt and gave the address of her next of kin as 51 Aggrey road, Bende, in Abia state as her state of origin, and near Renix fast food, Yenagoa in Bayelsa state as her permanent home address.
Not minding that the address is that of a criminal, the police in company of the parents of the baby headed for the journey only to find out that all the information she gave were false as the addresses does not exist. After spending over two weeks in Port Harcourt , Abia and Bayelsa, they headed back to Abuja .
Narrating her ordeal to Daily Sun in Abuja , Cecilia and her husband told of how a young woman who took pity on them made it possible for them to get Blessing's photograph from a photo studio at Mararaba which they went along with to Port Harcourt , Abia and Bayelsa.
The 28 year old distressed, aggrieved and confused mother, who stayed without her baby for exactly 76 days as at the time of filling in this report, told of how she has visited several churches, prayer houses, prophets to know the where about of her baby since the day of the sad incident.
'As you can see, I really don't know how to express my feelings for people to understand because if I go ahead to kill myself or starve myself in any way people will say may be I will not have another baby again that is why I did that. I have been thinking of all that. Should I take poison and kill myself, what kind of life is this. What am I going to do, my heart keeps beating as if I will die but there is nothing I can do. I keep hoping and I believe my baby is somewhere because with God all things are possible'. She says she believes that since God himself made her to deliver her baby safely, she has faith that she will one day see her baby.
She narrates her sad story. 'My name is Cecilia Oli, married to Mr. Mike Ariko. Iam from Bekwara, Local Government Area of Cross Rivers State, while my husband is from Yala. I came to Abuja in 2005 in search of a job and found one at SCC construction company and that is where I am still working.
My sad story started on the March, 11, 2010. I was at my workplace when I received a call from my sister in the evening saying that Hakeem's girlfriend collected my baby from her in the morning and told her she was coming but that she has not seen her and that she has been calling her and that she kept telling her she was in the market and she was coming.
She said she had called over a hundred times to know her whereabouts and the baby but she kept assuring her she was on her way until the lady switched off her phone. She said the lady then called her with a Zain network to tell her phone had run down and that she was using an Okada's man phone to put the call across to assure her she was on her way with the baby. But still she did not show up after two hours until my sister left the school where she was teaching and rushed home to tell some of our neighbours in the compound that Hakeem's girlfriend collected my baby from her and that she was not in the room.
At that point one of our neighbour's shouted and said they should call the boyfriend and they called him and he immediately rushed down and took them to the house where the lady was squatting with one of her friends at Utako village. When they got there, they met the lady she was squatting with and the lady told them the girlfriend just left the house about one hour ago and that she came to carry her bag that she was traveling. And she said she did not see her with the baby because she rushed in to pick her bag and rushed out and that she even asked her if it was not too late to travel because its after three but that she had already made arrangement with the driver that would take her and she left.
It was at that point that we all knew she has kidnapped the baby and we immediately reported the matter at the Utako police station where they gave us police men and we went to the Jabi motor park. The woman she was squatting with also went with us. At the motor park they told us some buses had left and they made contact with them and stopped the bus around airport road and asked us to go there and we went but the woman we saw with a baby was not the woman that stole my baby so we returned to the police station because it was getting late. Back at the police station at Utako, they asked us to go and report the matter at the Karmo police station since the incident happened there and we did. It was at that point that I called my husband to tell him what had happened. The case was at the Karmo police station for about three weeks before it was transferred to the state CID.
The lady that snatched my baby is somebody we got to know through one of our neighbour who is her boyfriend and she has been coming to visit him and she became a friend to my juniour sister since I am not always around because of my work that was how they got close.
As for the friend, the police arrested her and the boyfriend of the girl and they were detained but were released after sometime. The lady said she does not know anything about the girl but she was able to provide an account number given to her by the lady because that is the only thing she left with her that somebody was going to come and ask for her and pay some money into her account.
With the account number, the police at Karmo, contacted the bank, bank at Utako to trace if really she is the owner of the account. At the bank, it was discovered that the account actually belong to her and it was opened at Bayelsa State and he gave the data to the police with which we traveled. But on getting to Port Harcourt , we discovered that 51Agreey Road does not exist, we also found that all the buildings at Bayelsa where she gave as address are not numbered so it was difficult tracing the real house and some people we presented the photos to said her face looked familiar. The same thing happened in Abia, when we went to Bende, nobody knows her and so we had to leave.'
For now, Mr. and Mrs. Arikpo, are appealing to kind hearted Nigerians who may know the where about of Blessing Nnenna Udese to report to the nearest police station as her number has been permanently switched off.