Dbanj spotted snuggling Jasmine Murray Bruce!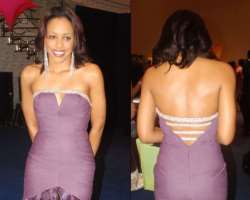 Forget the story making the rounds of nollywood actress, Genevieve Nnaji being Dbanj's girlfriend, there is no iota of truth in it, infact it is nothing but a sham. But what we can authoritatively gather is of Dbanj's recent moves which no one seems to be aware of yet.
The Koko master as he is fondly called doesnt deny being "endowed" and that explains the huge love he gets from the ladies. One of such ladies is Jasmine Murray Bruce, CEO of Monae spa located in silverbird galleria in Victoria Island, lagos. Jasmine is the daughter of Guy Murray Bruce of the silverbird family.
Jasmine, who also co-hosted the MBGN pageant with Ik Osakioduwa recently, was seen by eagle eyed gossip bird inside her spa today, 25th of May 2010, and according to them, she and Dbanj were touching each other, whispering sweet nothings into each others ears and she giggled and laughed her heart out like an over-excited, love lost lady.
Dbanj who came to the place with two heavily built bouncers was adorned in a black long sleeve shirt, blue rock and republic jeans and not without his trade mark sun glasses. Our shocked spy left the scene too shocked to even hang around at the sight of the scene.
So maybe we should wait and see if he would unveil her as his new woman, or was she just being "nice" to her client? And since when did Dbanj start doing spas?
Pardon my ignorance, just had to ask……