MUD COSMETICS BERTHS IN NIGERIA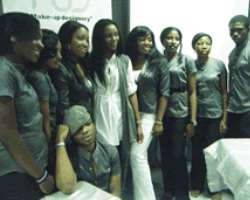 Face of MUD, Genevieve Nnaji (middle), with Chinny & Onyinye surrounded by some make-up artistes
Nigeria beauty industry has witnessed the unveiling of yet another range of beauty product. Make-up designory (MUD) is an international make-up company that has been creating genuine make-up products and providing quality education for over the past decade. In the international community, MUD has been the expert choice of make-up professionals, as its renowned make-up schools have produced renowned make-up artists on a global scale.
The two sisters behind MUD in Nigeria, Chinny and Onyinye Onwugbenu said their selling point is versatility and quality. According to them, MUD conducts rigorous testing for their line of products through industry experts and up and coming make-up artists at their highly regarded schools in Los Angeles and New York, to ensure they meet professional standards for today and tomorrow. 'So whether you dare to be different, prefer polished, professional or simply want an all-natural look, MUD promises quality, long-lasting, wearability, flawless application and radiantly accurate colour.
The product which is making its first debut in Africa as a whole and Nigeria in particular, is homogenic and friendly to the body. Everybody has a range to pick from MUD'.
As a good quality product, MUD Nigeria has decided to partner with Genevieve Nnaji, an actress that has legendary status within the industry. Known for her top quality films and extreme passion and dedication to her craft, Genevieve has been at the top of her class for quite some time now.
'What attracted me is the people behind it', Genevieve said. They are young and upcoming. I am humbled to be chosen to be the Face of Mud'.
Also speaking at the event, Bayo Haastrop, one of the notable Nigerian make-up artist added that MUD Nigeria has not only introduced the product in the country, but have also decided to empower individuals as distributors of the brand who would earn 30% profit. According to Bayo, it is a network type of business to encourage and create huge incentive.
In addition to networking, Bellezza Cosmetics and Spa will also serve as the showcase for MUD Cosmetics. On why they have decided not to go into the open market, they said it is for fear of adulteration.