SOUTH AFRICA 2010: STRIKERS WHO WILL BE DEFENDERS NIGHTMARE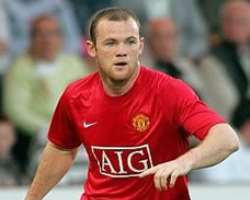 Wayne Rooney
Goalscoring enriches football and makes it worth watching. Strikers, who are exceptional in their trade, are adored and worshipped. They score graceful goals, which send spectators rising and roaring in salute, as that helps them to off load stress each time.
On the contrary, strikers can be nightmares to defenders of opposing sides. As they press for goals, they bring the skills of their markers on the scale and call their prowess to question.
For one month, beginning on June 11, it would be war between attackers and defenders at the FIFA World Cup in South Africa. Stand out strikers from various countries would be on the firing block. They would be adding real lustre to the tournament. They would be known by the quality of goals they would score.Here are some of the strikers expected to thrill at the World Cup.
Diego Milito - Argentina
Diego Milito is in the Coach Diego Armando Maradona's team to star for Argentina at the 2010 World Cup. The Inter Milan hit man is known for his knack for goalscoring. This season alone, he won UEFA Champions League, the Italian Serie A and the Coppa Italia. He made 51 appearances for Inter, scoring 30 goals. He missed the 2006 World Cup in Germany, but the 30-year-old will be in South Africa this time around.
Gonzalez Higuaine - Argentina
Gonzalez Higuaine, 22, strikes for Real Madrid. He featured 39 times for the Madrid club last season and scored 29 goals, 27 in the Spanish La Liga, hitting a hat trick twice.
Lionel Messi - Argentina
Lionel Messi, the reigning FIFA World Footballer of the Year, will be the centre of attraction when Argentina opens her campaign against Nigeria on June 12. Creative with the ball, he scored 34 goals for Barcelona in the Spanish La Liga. His feat earned him the European Golden Shoe, as his goals tally was the highest in Europe. He added the UEFA Championship League top scorer's trophy with eight goals, even when Barcelona crashed out at the quarterfinal. He made a total of 53 appearances for Barcelona, scoring a total of 47 goals. His presence in the Argentine line up will make the huge difference.
Sergio Aguero - Argentina
Sergio Aguero is the son in-law to Argentina Coach, Diego Armando Maradona. But he earned his place in the country's party to South Africa by dent of hard work. The Sevilla of Spain striker scores goals and creates chances. Last season, he made 49 appearances for the club and scoring 20 goals. He won the UEFA Europe League with the club. He made his World Cup debut in 2006 and will be making his two straight appearances at the Mundial this June.
Wayne Roney - England
Wayne Rooney featured at 2006 World Cup as a half-fit player following a foot injury. In the wake of the build up to the 2010 edition, he chalked up another injury. He is fighting real hard to hit fine form for the challenges ahead. Rooney, 24, scored 25 Premiership goals and was well on his way to winning the championship's Golden Boot before injury struck, having made 44 appearances and scored 34 goals. Rooney will carry England's hope, as he looks to win the World Cup the first time since 1966.
Da rent Bent - England
Darent Bent plays for Sunderland. The England forward single-handed sustained the team in the top flight with his 25 goals. The lad, who plays with the strength of steel, would be running rings around opponents as the Three Lions seeks for relevance in South Africa.
Didier Drogba - Cote d'Ivoire
Many eyes would be upon Didier Drogba when Cote d'Ivoire takes to the turf in South Africa. Drogba is the inspiration behind the Elephants. He was instrumental to its qualification for the 2010 World Cup. He will be attempting to replicate his feat in England last season where he won the Premiership and the FA Cup. The Chelsea forward, 32, scored 29 league goals and won the championship's Golden Boot Award. He has been around for Cote d'Ivoire since 2006, netting 43 goals.
Samuel Eto'o - Cameroon
Cameroon's Samuel Eto'o will be in South Africa to show that his recent exploits in the Italian Serie A is no fluke. Eto'o, known for his attacking prowess and great finishing, scored 16 goals for Inter and won the prestigious UEFA Champions League, the Serie A title and the Coppa Italia. Since 1996, he has been playing for Cameroon and has so far scored 44 goals for his country. He would be the Indomitable Lions' arrowhead at the Mundial.
Arjen Robben - Netherlands
Arjen Robben will distinguish himself in South Africa as a fighter and goalscorer. He was the strength of the Bayern Munich team that lost in the UEFA Champions League to Inter Milan last weekend. Robben, who featured 36 times for Bayern and scored 23 goals, will be the driver of Oranje train at the 19th edition of the World Cup.
Cristiano Ronaldo - Portugal
Cristiano Ronaldo's 26 La Liga strikes for Real Madrid easily placed him in the league of defender's nightmare, coming in the third place behind Lionel Messi, and Gonzalez Higuain. He went ahead to score nine times in other competitions. Known for his excellent dribbles and stunning free kicks, Ronaldo remains an inspiration to the Reds when Portugal meets her opponents in South Africa.
Nani - Portugal
At 23, Nani is easily one of the strikers to watch in South Africa. The Manchester United forward made 66 appearances for his team last season, scoring 16 goals. He helped the Red Devils to win the English Carling Cup. He was at the last World Cup in Germany and looks to work harder to help Portugal do better this time around.
David Villa - Spain
David Villa will be boosted by his recent £7million switch from Sevilla to Barcelona to give his best to Spain in South Africa. Red-hot Villa netted 28 goals in 42 appearances for his former club and would be playing alongside his compatriot, Fernando Torres in the attack. Noted for his speed and strength, the 28-year-old looks to supply the goals that will silence Spain's opponents next month.
Luis Fabiano - Brazil
Luis Fabiano fired in 15 La Liga goals for Sevilla of Spain last season. He leads Brazil's attack at the Mundial. He has been around for Brazil since 2003, scoring 25 goals. Some of his goals for the Samba Boys had helped the team win vital games.
Diego Forlan - Uruguay
Diego Forlan strikes for Athletico Madrid in Spain. He was part of the squad that won the UEFA Europa League trophy last season. He scored 28 league goals for his team. The 31-year-old would be Uruguay's leading marksman as the country competes in South Africa.
Fernando Torres - Spain
Any day, Fernando Torres stands to make a huge difference in Spain's attack. The Liverpool's forward is capable of converting half chances. He scored 22 goals in 32 outings last season and on a good day, can register a hat trick to justify his inclusion in any squad.
Thomas Muller - Germany
At 20, Thomas Muller will make impact with the German Machine. The Bayern Munich's striker scored 19 goals from 25 appearances for the UEFA Champions League runner-up. He won the Bundesliga trophy with the team before adding the DFD Pokal (Cup). He combines youth and skill, good assets the German side needs to contend for the World Cup trophy.
Carlos Tevez - Argentina
There is no wishing away the fact that Carlos Tevez would be defenders' nightmare in South Africa. The Manchester City forward is in fine form at the moment. In his 46 games for City last season, he scored 29 goals. He was there at Germany 2006 and looks to have improved significantly since then.