Ribadu abused Office says Petitioner, faults clean Bill of Health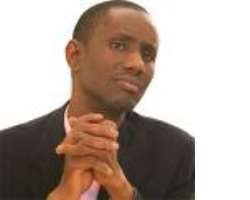 Nuhu Ribadu
A legal practitioner,  Mr Ugo Illechukwu Wednesday faulted the clean bill of  health granted Malam Nuhu Ribadu on the orders of President Goodluck Jonathan, contending that it would encourage godfatherism and widespread abuse of office 
 
Illechukwu who petitioned  President Jonathan alleging sundry abuse of office against Ribadu is counsel to Mr. Emmanuel Nwude who was convicted during the tenure of Ribadu as chairman of the Economic and Financial Crimes Commission. 
 
He spoke to thetimesofnigeria.com in an interview, excerpts: 
 
Q:  On behalf of your client, Mr Emmanuel Nwude, you recently petitioned President Jonathan alleging sundry abuse of office against Malam Nuhu Ribadu while he served as chairman of the EFCC? 
 
A: yes we did, we are accusing him of fee-sharing and other violations of the EFCC Act. 
 
Q: Malam Ribadu has just been granted a clean bill by President Jonathan, how does this affect your petition? 
 
A:  It shows that law and order have no place in the administration of President Goodluck Jonthan. That a man who ordinarily should be standing trial for abuse office is being shielded. This best description for what has taken place is criminality, it shows that godfatherism will be the order of the day in this administration. Ribadu should have gone to court to clear himself, but he is being protected by the Executive, which is a clear breach of the principles of separation of powers.
If the executive is sincere, they should have gone to extra lengths to clear him through due process. Nonetheless, we will continue with our petition,  Ribadu used his office to abuse the system and his now colluding with the powers that be to get away with it, therefore we will fight on. 
 
Q: what exactly are the allegations you have against Ribadu? 
 
A: It started between 2001/2002, when my client, Emmanuel Nwude was arrested and charged to court under section 419/519 0f the Criminal Code law of Lagos State,  as the matter progressed in court, the EFCC Act was enacted in 2002, and  Ogundipe of Sofunde, Osakwe, Ogubndipe and Belgore approached Ribadu that he has a foreign judgment to execute and that he needs EFCC's assistance. 
 
Ribadu agreed to assist him based on their reaching a fee-sharing agreement. Ogundipe on the promptings of Ribadu subsequently reached a fee-sharing arrangement with Rotimi Jacobs, counsel to EFCC and Nwude was re-arrested by the EFCC, who stopped the  trial at Lagos High Court and transferred it to Abuja High Court. 
 
Fee-sharing is alien to our judicial system and the EFCC Act does not empower it to act retroactively, matters already in court were to continue its normal course. We are also accusing Ribadu of violation of  section 27 of  the EFCC Act, which states that properties forfeited to the Federal Government should be handed over to  the secretary of EFCC and the Minister of Justice and  Attorney-General of the Federation who now find managers for it. 
 
In the case of my client, after the Abuja High Court ruled that  his properties be forfeited to the Federal Government, Ribadu directed that that the properties be handed over to Ogundipe of Sofunde, Osakwe, Ogundipe and Belgore. 
 
We also accuse Ribadu of colluding with former counsel to my client, Mr Ricky Tarfa to get judgment against my client. 
 
Q: can you expantiate further on this last point? 
 
A: What I am telling you is in public domain. If you remember, Ricky Tarfa was charged to court by the EFCC in 2006 on allegations of obtaining funds by false pretences, but the real truth as all parties later confessed under oath was that Tarfa obtained N75 million from Fredrick Akinrutan,  the buyer of one of the forfeited properties.  He called it his professional fees, but the truth is that EFCC and Ogundipe promised to share proceeds from the sale of the property with him if he could use his influence as my client's counsel to perfect the papers for the sale to avoid future litigation. Based on his deal with Ribadu, Tarfa misled my client, and also rendered services to parties in conflict with my client, while he still posed as my client's counsel. This is clearly unprofessional. When he refused to return to Ogundipe  the N75 million he obtained from Akinrutan, he was charged to court. 
 
Q: You are also alleging that the execution of the judgment against your client was in violation of certain laws. Can you explain? 
 
A: after his conviction, my client appealed against Justice Oyewole's judgment, and in our legal system, once there is an appeal against a judgment, especially affecting properties, matter have to wait till the Appeal and Supreme Courts respectively rules on the appeal, this is the Doctrine of Liss Pedens Section 263(A) sub-section 4 of Criminal Procedure Act states that the property  in contention should be preserved pending the time  the appeal lapses, but Ribadu and co disregarded this provision and hurriedly disposed of the properties on power of Attorney purportedly issued by Leo Wallacfe Cochrane, who is not even a victim, the victim allegedly defrauded is Sakaguchi and Stanton Corporation, in order words, that power of Attorney was forged.