English FA approves new rule to retroactively punish players for diving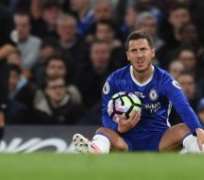 It turned the game around for Chelsea when it happened on Nov. 9, 2013. Down 2-1 against underdog West Bromwich Albion with just a minute to go in stoppage time, Chelsea midfielder Ramires dramatically fell to the ground after West Brom defender Steven Reid barely brushed him. The result led to a yellow card for Reid and a penalty kick for Chelsea, which allowed the Blues to end the game in a 2-2 draw.
Caught on camera, television audiences at home were stunned the referee believed Ramires, who got away with the trick scot-free. At that time there was no way to retroactively punish him for his deception.
But not anymore. Thanks to a change in the rules approved by the English Football Association on Thursday, if a player pulls a stunt like that starting next season, he'll be punished with a two-game suspension.
Called "Successful Deception of a Match Official," the new rule applies to dives that made a pivotal difference in the game, leading to a penalty or dismissal of the diver's opponent. In these cases, the FA will convene a three-person panel — including an ex-referee, ex-manager and ex-player — who will examine video footage of the incident and make a final decision. If the panel unanimously concludes the player simulated the foul, he will receive a two-game ban.
While it doesn't appear the FA will have the power to change any match outcomes (for instance, in the above scenario concerning Chelsea and West Brom, the score would stand at 2-2), the association said it can rescind any cautions or dismissals shown to the diver's opponent.
The FA said it hopes the new rule will act as a deterrent to curb dishonest player behavior.
There's already a similar rule on the books in Scotland, which is where the FA got the idea, according to the Independent .
Called simply Rule 201 by the Scottish Football Association, the rule was introduced in 2011 and has been applied a handful of times, including this season when Heart of Midlothian star Jamie Walker served a two-game suspension for an egregious dive that resulted in a penalty against Celtic in August.