Guardiola gives us a glimpse at the title-winning football to come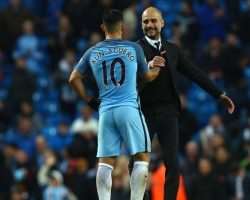 If Pep Guardiola ever wanted to point to a game which showed evidence that his Manchester City team are going in the right direction then Saturday's 5-0 win against Crystal Palace would be it.
"We have to remember that not so many weeks ago, Palace destroyed Arsenal so I know their qualities," he said. "To score five against this team is very good and it is an important result for the mini-league fight that we are in for places in the top four."
Back in November, City beat Palace 2-1 at Selhurst Park. The three points won on Saturday are worth just as much as the ones taken in London in winter but chances are Guardiola will be more pleased with these ones.
If you go back and watch the footage from Guardiola's press conference you'll hear him say things like "it was not our best performance", "we were not brilliant", "we were lucky to win the game", and "we have a lot of things we can do better".
His players have not always played to his liking and occasionally won those games. Equally, they have not always won but played to his liking. Guess which games Guardiola prefers.
Gael Clichy Pep Guardiola Manchester City
His claims that City have been the better team in matches they've only drawn or lost have been met with scepticism at various points this season.
Nobody other than Guardiola, for example, might remember that City had more chances than Everton at Goodison Park in January, but everyone would remember that the Toffees beat them 4-0.
"I remember the game against Everton where we lost 4-0 and they only had four attempts at goal," he said. "We created so many yet we lost, so this is something we must work on."
It's been tough for Guardiola to convince a hostile audience that he's on the right track because the score line as a measure of the game is such an attractive point of focus.
On Saturday we had Guardiola and his team successful in both parts; satisfying demands in the short term for points and in the long term for deep-rooted change and progress around Manchester City.
Sure, it was 'only' Crystal Palace but it's a start.
Palace have beaten Chelsea, Arsenal and Liverpool in recent weeks and pushed Tottenham all the way only a few games ago. Their own struggles stretch on but for teams near the summit, they have become somewhat of an acid test.
Pep: I hope Man Utd win the Europa League!
The result is not always the uppermost important thing in Guardiola's mind; he wants his team to play to his instruction – win or lose – in an attempt to gradually emboss his image on the squad. Scoring goals against the run of play or taking victories when not playing well are not sustainable philosophies. This season Guardiola has had his fair share of individuals bailing him out of trouble; it was Yaya Toure in the first meeting between these sides.
But only in the defeat against Spurs away, Pep reckons, have City been outplayed. In all the other games the difference between wins and losses has been the City players' failure in both boxes.
Pep Guardiola quote graphic