NORTH KOREA 'SEVERS ALL TIES' WITH SEOUL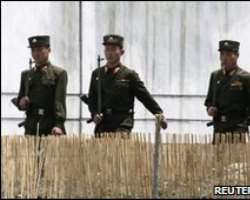 Pyongyang said all ties, including communications, would be cut
North Korea is to cut all relations with South Korea, Pyongyang's official news agency reports.
KCNA said the North was also expelling all South Korean workers from a jointly-run factory north of the border.
The move comes after an international report blamed North Korea for sinking a South Korean warship.
Pyongyang denies it torpedoed the Cheonan near the inter-Korean maritime border on 26 March, killing 46 sailors.
South Korea says it plans to refer North Korea to the UN Security Council, and is seeking a unified international response to the incident.
'Puppet army gangs'
Tuesday's KCNA reports announcing the severing of all ties – including communications – said the North was also banning South Korean ships and planes from its territorial waters and airspace.
Analysis
Continue reading the main story
Jonathan Marcus
BBC Diplomatic Correspondent
Within a matter of days relations between the two Koreas have returned to the freezer.
The diplomatic goal now will be to ensure that a renewed cold war on the Korean peninsula does not generate into a hot conflict.
The United States is firmly backing South Korea but US Secretary of State Hillary Clinton – who has been in the Chinese capital Beijing as events unfolded – has failed to extract any public criticism of North Korea from the Chinese authorities.
Her hope will be that in private Beijing will tell Pyongyang in no uncertain terms that it should do nothing to inflame this crisis further.
"The Committee for the Peaceful Reunification of Korea… formally declares that from now on it will put into force the resolute measures to totally freeze the inter-Korean relations, totally abrogate the agreement on non-aggression between the North and the South and completely halt the inter-Korean cooperation," KCNA reported.
Pyongyang has also accused South Korea of trespassing in its waters.
In a warning to South Korea's navy, a newsreader on North Korean state television (KRT) said: "South Korean puppet army gangs have been recently trespassing our territorial waters without restraint.
"They have conducted provocative acts which severely irritate us, by making dozens of warships intrude upon our waters from 14 to 24 May."
The newsreader said that if this "deliberate provocation" continued, the North would "put into force practical military measures to defend its waters".
North and South Korea are technically still at war after the Korean conflict ended without an armistice in 1953.
While there were hopes of a reconciliation a few years ago, relations have been deteriorating since then and now appear to be at their lowest point in a decade, correspondents say.
Provocation
Amid the rising tensions, Seoul announced on Sunday it was ending trade relations with the North in response to the sinking of the Cheonan.
South Korea has also said it will drop propaganda leaflets into the North to tell people about the sinking, as well as setting up giant electronic billboards to flash messages.