How Arsenal were bullied by Crystal Palace in 3-0 defeat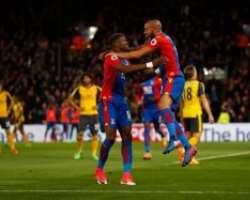 Danny Welbeck was in the wrong position
T he desire to give Danny Welbeck another opportunity in his preferred centre forward's position is understandable enough but, at some point, the reality of his performances and goalscoring return must surely force a rethink.
Arsenal currently have three players competing to start in the centre. There is Alexis Sanchez, who has scored 22 goals already this season. There is Olivier Giroud, who has started only 12 Arsenal games this season but still scored 13 times across all his appearances, which include another 18 as a substitute.
And then there is Welbeck, whose nine Premier League goals for Arsenal have been spread across three seasons. Welbeck is more effective out wide and either Sanchez or Giroud should be the first option through the centre.
Palace physicality was the difference
I t would be unfair to explain all the problems that Palace caused Arsenal with reference to physical strength – their technical excellence was what allowed them to exploit the space they created – but it was ultimately still the difference.
That is meant as no slight on Sam Allardyce's team but, in the same way that Chelsea seemed to bully Arsenal physically at Stamford Bridge in February, Arsene Wenger's team felt lightweight here. Christian Benteke was the most obvious problem and, while the limitations of Per Mertesacker are obvious enough, his on-field return must be seriously considered.
Not only might he stand up aerially to strikers like Benteke but his leadership and general presence would enhance Arsenal.
Benteke bullied Arsenal's defenders all night long Credit: Getty images

Luka Milivojevic has helped transform Palace
T he deadline day signing of Mamadou Sakho might have attracted most attention but it was perhaps the addition of Luka Milivojevic that has proved most inspired. Marco Silva also knew all about his quality and tried to recruit him for Hull City but he chose Palace and has been a quietly outstanding midfield presence ever since.

N ot only did he score a penalty here but, with Arsenal having almost three quarters of possession, his pressing was vital in restricting them to virtually no clear goalscoring chances. Mesut Ozil, Theo Walcott and even Alexis Sanchez were almost anonymous and Milivojevic looks like one of the best signings of the year.
Milivojevic (right) scored Palace's third from the penalty spot Credit: Reuters

Man of the match
Y ohan Cabaye
Arsenal were caused problems all over the pitch but the craft of Yohan Cabaye – a player Wenger once tried to sign – was twice decisive. He released Wilfried Zaha to provide the assist for Palace's first and then doubled the lead with a wonderful top corner strike past Emiliano Martinez.

What Crystal Palace must do next
A void complacency. A six-point cushion to the relegation zone has put them in an extremely strong position but, while Middlesbrough and Sunderland look doomed, Swansea do just about seem capable of a positive finish. What Arsenal must do next

Somehow recover mentality from a feeble run of away performances that has seen them concede three or more in their last four Premier League games. A collective lack of character has become glaring.