NICE'S DOCTOR STORMS LONDON FOR APAM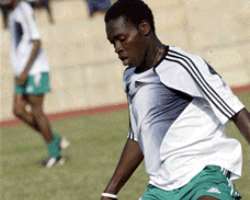 Apam
The doctor of French club, Nice, will team up with Nigeria's international defender, Onyekachi Apam, at the Eagles London camp to re-assess the player's knee injury, officials said.
A top Nigeria Football Federation (NFF) official informed: 'The doctor of Nice will be with Apam in London to take another look at the injury of the defender.
'He told us that he could have played with the injury and still make the final squad to the World Cup, but he does not wish to do so. He will prefer to be 100% fit before he stakes his claim for a place on the plane to South Africa.'
Apam trained alone when the Eagles worked out for two days in Abuja, on Friday and Saturday. He is unlikely to be picked for Tuesday's warm-up game against Saudi Arabia in Austria.
The highly-rated centre-half has featured at the FIFA Under-20 World Cup and the football event of the last Olympic Games in Beijing.