Arsenal, Man City share spoils after frenetic clash at Emirates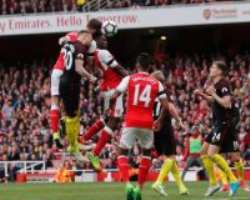 Arsenal 2 Manchester City 2
Arsène Wenger has talked in recent weeks about personal reinvention while the buzz phrase coming out of Arsenal on Sunday was "catalyst for change". In short, as the chief executive, Ivan Gazidis , explained to a group of fans' representatives in the morning, everyone at the club had to evolve in order to drive improvement – and that included the manager.
It felt like a snappy piece of management-speak, rather than any meaningful clue as to whether Wenger was going to remain at the helm for the start of next season – with the feeling persisting that the directors want him to. It was followed by an Arsenal performance that ticked off many familiar themes. The Emirates crowd was edgy, the team were loose at the back and it was impossible to ignore the impression that disaster lurked around the corner.
Except that it did not. Manchester City was equally skittish and although it was the visitors who were the likelier scorers of what would have been the winner in the closing stages, Arsenal emerged with a draw to snap their miserable recent run and provide a dose of calm in the face of the frenzy that has built around the club.
City led twice and were pegged back on both occasions and although Wenger had described it as a game he "absolutely had to win," he could take a measure of satisfaction – or more likely, relief – at the outcome. It was Pep Guardiola that finished with his blood pressure raised. The City manager argued with the referee, Andre Marriner , on the field after the final whistle, claiming that his team should have had a stoppage time penalty for a Nacho Monreal hand ball. City remain fourth in the table.
Arsenal had needed a positive start and one thing was plain: they did not want to concede early on. They conceded early on and it was a goal that laid bare their fragility. Shkodran Mustafi stepped up to execute a clearing header but the ball went straight to Kevin De Bruyne , who volleyed it back first-time up the middle.
In the blink of an eye, Leroy Sané had muscled on to it, with Héctor Bellerín on the wrong side and nobody in a red shirt inside him. Where were the centre-halves? Sané is a beautifully balanced player and he made a difficult finish look routine. He held off Bellerín before going around David Ospina and rolling into the empty net.
At the very outset, Fernandinho had played in Raheem Sterling only for Ospina to get out to clear and there was a backs-to-the-wall feel for Arsenal by the 10th minute, when De Bruyne bent a shot against a post and David Silva worked Ospina with the rebound.
When the teamsheets had landed, it was unclear how Guardiola would incorporate the six out-and-out attacking players in his line-up. He did so by starting Jesús Navas at right-back, with De Bruyne alongside Fernandinho in midfield. Navas is hardly noted for his tacking ability and he was booked for a nasty lunge at Monreal. But Guardiola was clearly confident about getting at Arsenal.
Wenger's team got back into it, without ever looking truly cohesive. Danny Welbeck had gone close in the early running and, after Sané's opener, Arsenal flickered, with Mesut Özil turning inside the area only to shoot weakly when off-balance and Alexis Sánchez curling wide of the far corner. Granit Xhaka, whose passing was erratic, was booked for catching Nicolas Otamendi – his sixth yellow card in seven matches.
City went into their shells at 1-0 and they conceded the equaliser when Arsenal botched a short corner but the visitors mucked up their attempts to clear. Mustafi sent a header back into the area and it found Walcott, who was onside, despite City's attempts to push out. He got the better of Gaël Clichy, his former Arsenal teammate, and prodded past Willy Caballero .
Arsenal's good feeling lasted 131 seconds. Actually, it was less than that because they fell apart almost immediately at the back and were grateful that De Bruyne could not finish when well placed.
City regained their lead with their next possession. Özil lost the ball and the ease with which City cut through his team was remarkable. Silva worked it wide to Sergio Agüero, who had manoeuvred himself into yards of space on the overlap and he flashed a low shot into the far corner. The home crowd had that familiar sinking feeling.
There was still time before the interval for Walcott to lift a half-chance over the crossbar from Sánchez's set-up. It was a strange game and a curious atmosphere, with the Arsenal support fearing the worst when Laurent Koscielny did not reappear for the second-half because of an Achilles problem.
There was also the moment on 50 minutes when Mustafi stepped out of defence with the ball only to over-run it and surrender possession in a dangerous area. Sánchez was next to Mustafi and he berated him before standing still as City surged into the area – on a move that would come to nothing. Sánchez had earlier tracked a run forward by De Bruyne and, when he looked around, he noticed that he was the only Arsenal player to have chased back.
City looked threatening and Agüero fluffed a free header from Navas's cross. But the game lurched again when Mustafi, not for the first time, leapt in towering fashion and he glanced a corner beyond Caballero.
Thereafter, City were the better team. Fernandinho was denied by Ospina; Agüero worked the goalkeeper after some faffing by Sánchez; Francis Coquelin risked a second yellow card for a barge on De Bruyne and, at the very end, Monreal leaned towards the ball with his arm. City were convinced it should have been a penalty. At last, Wenger could feel he had caught a break.
(Guardian service)