Pep Guardiola 'happy and proud' as Manchester City's 1-1 draw with Liverpool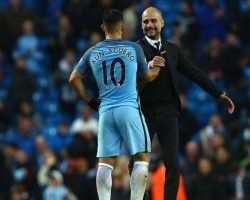 Pep Guardiola won 21 trophies in seven years while in charge of Barcelona and Bayern Munich but said his Manchester City side's 1-1 draw with Liverpool in the Premier League was one of his happiest moments in management.
It was quite a statement from the Spaniard who was clearly still as breathless as the fans who watched a classic encounter at City's home ground when he spoke after the match.
"You cannot imagine. It is one of the happiest days of my career as a manager. I am so proud," Guardiola, whose side were knocked out of the Champions League by Monaco in midweek," Guardiola said.
"After the Champions League, the last few days at training people were so, so sad, people don't talk too much.
"We arrive here against Liverpool who have no Europe all season and one week to prepare. The spirit, how we played, it is one of my happiest days as a manager."
Guardiola's side fell behind to James Milner's 51st-minute penalty but earned a point thanks to Sergio Aguero's equaliser.
Match Stats — Team Stats

| Manchester City | Comparison | Liverpool |
| --- | --- | --- |
| 1 | | 1 |

Total Shots (including blocked shots)

| Manchester City | Comparison | Liverpool |
| --- | --- | --- |
| 13 | | 13 |

Shots On Target

| Manchester City | Comparison | Liverpool |
| --- | --- | --- |
| 3 | | 4 |

Blocked Shots

| Manchester City | Comparison | Liverpool |
| --- | --- | --- |
| 2 | | 4 |

Shots from outside the box

| Manchester City | Comparison | Liverpool |
| --- | --- | --- |
| 1 | | 0 |

Shots from inside the box

| Manchester City | Comparison | Liverpool |
| --- | --- | --- |
| 12 | | 13 |

Shot Accuracy (excluding blocked shots)

| Manchester City | Comparison | Liverpool |
| --- | --- | --- |
| 27.3% | | 44.4% |

Aguero wasted a gilt-edged opportunity to put City ahead, volleying over with the goal gaping, while Adam Lallana also missed a sitter for Liverpool.

The draw meant both sides dropped points in what is becoming a fierce battle to finish in the top four. City are 12 points behind leaders Chelsea and two behind second-placed Tottenham Hotspur while Liverpool are a further point back.

Asked why his side's performance had filled him with pride, Guardiola said it was because of how they responded to their bitter European exit.

"When you approach one game after 10 games winning, it's nothing special. But you have to consider the situation we played this game, how we played against them, a top team," he said.

"They have exceptional players. This means a lot to me. That is why I am so happy." We deserved a win, says Guardiola

Guardiola, winner of two Champions Leagues and three La Liga titles with Barcelona plus three Bundesliga titles with Bayern, said his side had deserved all three points.

"We are a little sad because we deserved to win," he said.

"We conceded some chances but we created more than them. Our problem is we don't score when they are easy goals. It was the same against Chelsea and Tottenham."

Liverpool's Jurgen Klopp rued missed chances but agreed that a draw was a fair end to an eventful encounter.

"Give me a few hours and then I'm happy," he said. "To get a point at Manchester City for (any) team in the world is absolutely OK."

In other results, Tottenham Hotspur kept Chelsea within its sights at the top of the Premier League by beating Southampton 2-1 and Manchester United improved its prospects by moving into fifth place with a 3-1 victory at Middlesbrough.

English Premier League


| Pos | Team | P | W | D | L | GD | Pts |
| --- | --- | --- | --- | --- | --- | --- | --- |
| 1 | Chelsea | 28 | 22 | 3 | 3 | 38 | 69 |
| 2 | Tottenham Hotspur | 28 | 17 | 8 | 3 | 34 | 59 |
| 3 | Manchester City | 28 | 17 | 6 | 5 | 24 | 57 |
| 4 | Liverpool | 29 | 16 | 8 | 5 | 25 | 56 |
| 5 | Manchester United | 27 | 14 | 10 | 3 | 19 | 52 |
| 6 | Arsenal | 27 | 15 | 5 | 7 | 22 | 50 |
| 7 | Everton | 29 | 14 | 8 | 7 | 21 | 50 |
| 8 | West Bromwich Albion | 29 | 12 | 7 | 10 | 1 | 43 |
| 9 | Stoke City | 29 | 9 | 9 | 11 | -9 | 36 |
| 10 | Southampton | 27 | 9 | 6 | 12 | -3 | 33 |
| 11 | Bournemouth | 29 | 9 | 6 | 14 | -12 | 33 |
| 12 | West Ham United | 29 | 9 | 6 | 14 | -12 | 33 |
| 13 | Burnley | 29 | 9 | 5 | 15 | -11 | 32 |
| 14 | Watford | 28 | 8 | 7 | 13 | -15 | 31 |
| 15 | Leicester City | 28 | 8 | 6 | 14 | -14 | 30 |
| 16 | Crystal Palace | 28 | 8 | 4 | 16 | -10 | 28 |
| 17 | Swansea City | 29 | 8 | 3 | 18 | -27 | 27 |
| 18 | Hull City | 29 | 6 | 6 | 17 | -32 | 24 |
| 19 | Middlesbrough | 28 | 4 | 10 | 14 | -13 | 22 |
| 20 | Sunderland | 28 | 5 | 5 | 18 | -26 | 20 |

Reuters