Bayern thrash dismal Arsenal at Emirates to advance on 10-2 aggregate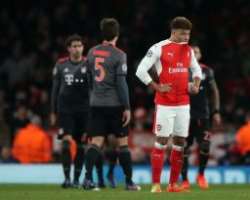 Three thoughts from Bayern Munich's 5-1 victory over Arsenal at the Emirates Stadium, which sees Carlo Ancelotti's team advance to the quarterfinals of the Champions League 10-2 on aggregate.
1. Arsenal undone again as Bayern advance
There is no hiding place for Arsenal and Arsene Wenger after this. Losing to one of Europe's superpowers is an occupational hazard at this stage of the Champions League, but Arsenal were humiliated in another 5-1 defeat that saw them eliminated 10-2 on aggregate.
There may be mitigating factors, such as the refereeing decisions in this game that saw Arsenal denied a first-half penalty when leading 1-0 and the second-half dismissal of captain Laurent Koscielny following a soft penalty call in Bayern's favour, when he fouled Robert Lewandowski.
But Arsenal were ultimately undone by their own incompetence and the bewildering decisions of Wenger.
Why did he select David Ospina ahead of Petr Cech in the first leg? Why did he replace the injured Danny Welbeck with Olivier Giroud when Lucas Perez was a more sensible option? And why did Arsenal capitulate once again in the closing stages to lose 5-1 just three weeks after doing the same in Munich?
Arsenal had chances in both games to make this tie uncomfortable and difficult for Bayern, but they simply lack a ruthless streak.
The mood around the team in Munich was one of resignation before a ball had even been kicked, so accustomed have the club become to losing at the last-16 stage of the Champions League.
But as the final seconds played out at the Emirates in front of banks of empty seats and with Wenger looking pained and anguished, it was clear that there is a pressing need for change at Arsenal.
Wenger is a man past his best, but so are many of his players and it will take more than a change of manager to alter Arsenal's fortunes.
2. Sanchez blows his chance to make a point
Alexis Sanchez has not had the best of weeks after being dropped by Wenger for the 3-1 defeat at Liverpool and then subjected to headlines about an alleged training-ground bust-up .
The Arsenal forward attempted to gain control of the situation by posting a cryptic message on Instagram in the build-up to the game against Bayern, but when you are at the eye of the storm as a footballer, it is best to allow your actions to speak louder than words and he had the chance to do so against Bayern.
Sanchez is Arsenal's best player, their talisman, and if they were to have any hope of overturning a 5-1 first-leg deficit, he had to be at the heart of everything driving his team on.
Some players thrive when they are at the heart of controversy, with the likes of Luis Suarez, Carlos Tevez and Cristiano Ronaldo all showing that defiant streak in recent seasons, but Sanchez failed to step up to the plate against Bayern.
He was a peripheral figure. In his defence, the former Barcelona player prefers to play centrally rather than out on the flank where he was deployed by Wenger, but even still he was barely a threat to Bayern. A tame free kick in first-half stoppage time, when Manuel Neuer saved easily, was the highlight of Sanchez's night.
In contrast, the much-maligned Theo Walcott rolled up his sleeves and attempted to inspire Arsenal to some kind of redemption.
Sanchez should have been that man, but he failed to come the party when his teammates needed him the most and it was no surprise when he was replaced by Perez in the closing stages.
Alexis Sanchez went missing when Arsenal needed him most, as they were thrashed 5-1 by Bayern Munich at the Emirates.
3. Bayern's flaws could cost them the Champions League
Bayern's 10-2 aggregate victory should send a warning out to their Champions League rivals and the message that Ancelotti's team are on course to win another European Cup in Cardiff in June.
But while the Bundesliga champions cruised into the quarterfinals at Arsenal's expense, they are not without their weaknesses and will need to improve dramatically if they are to avoid being eliminated by the first strong team they face.
It is at the back where Bayern are at their most vulnerable, with centre-halves Mats Hummels and Javi Martinez simply too slow to keep pace with the likes of Walcott and Sanchez.
Walcott scored one and should have scored another in the first half after escaping his markers, but the likes of Real Madrid, Paris Saint-Germain and Monaco or Manchester City may not be quite so wasteful against Bayern if they come up against Ancelotti's men in the latter stages.
In midfield, Xabi Alonso and Arturo Vidal were barely tested by Arsenal, but there were occasions when Aaron Ramsey got the better of the pair of them. Bayern were fortunate that Arsenal failed to take advantage of their chances, both in Munich and at the Emirates, but Europe's heavyweights are likely to be more clinical.
So while 10-2 looks brutally efficient, Bayern still have work to do against the very best.