Real Madrid dispatch Napoli in the Champions League round of 16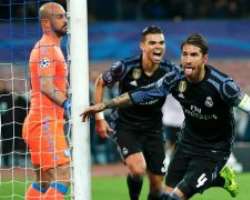 Real Madrid dispatched Napoli in the Champions League round of 16 on Tuesday, beating the Italians 3-1 in the second-leg clash, advancing 6-2 on aggregate.
Despite going down yet again to Napoli just like the first leg, Real Madrid put things out of reach early in the second half with two Sergio Ramos headers in the span of six minutes.
Napoli actually dominated Real Madrid in the first half, creating several quality chances, with Dries Mertens finishing on 24 minutes in to put the pressure on.
Napoli needed just one more goal to tie it on aggregate and take the lead on away goals, but had trouble the rest of the half to create a clear-cut chance. Mertens did hit the post in the first half off a low shot, while Cristiano Ronaldo hit the post for Real Madrid after being sent through before the break.
With Napoli up 1-0 entering the second half and still needing one goal, Real Madrid quickly put the pressure on the hosts with Ramos scoring with his head off a corner kick on 52 minutes to make it 1-1, and 3-2 to Real Madrid on aggregate.
His second header goal shut the door on Napoli's chances, with Real cruising the rest of the way.
Real added a late goal from Alvaro Morata to complete the 3-1 win.
This impressive victory sees the cup holders advance as expected, with Ramos the hero.