CAF election: With Nigeria, Egypt, South Africa behind me, I'll beat Hayatou: Ahmad Ahmad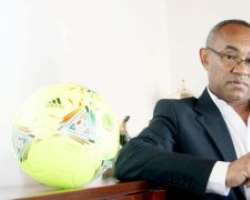 AHEAD of the elective congress of the Confederation of African Football (CAF) coming up on March 16, the president of the Madagascar FA and member of the CAF executive committee, Ahmad says there is an urgent need to reform football in the continent.
Ahmad who is also the only man challenging the long standing president of CAF, Issa Hayatou told journalists in Abuja yesterday that he decided to contest the election because he believes he has what it takes to bring positive change to African football. While speaking on his chances of winning, the deputy president of the Madagascar Senate boasted that with Nigeria, Egypt and South Africa supporting him, victory is sure.
He further wondered why one man will be in the saddle for about 29 years and still wants to contest the election despite the wind of change that is blowing across in the management of football. "African football needs to be reformed. We need a change in the administration of our football. I am here today because some of my colleagues want change. And I believe that those who want to bring change should be given the opportunity to do so.
"There are many reasons why we need change. Presently, too much power is concentrated in the CAF Executive Committee, and we feel that should not be so. There is no separation of powers, and certain individuals feel they should take all the decisions while others applaud. "At the same time, CAF is too far from its affiliate Member Associations.
The CAF President should travel more often to the Federations and help nip in the bud the usual tensions that exist between government and the Federations. "The change I bring is that of a clear vision, it is that of reformation and inclusiveness. Football is for everybody and not just a few people who want to continue to dominate everywhere. "29 years is too much for one man. Other continents are experiencing change and Africa should also change. We urgently need reforms so as to be able to manage football for the future of African youths. I don't just have people behind me but I have people with me and when I have giants like Nigeria, Egypt and South Africa supporting me, I should not have any fears."
Ahmad also praised Nigeria for her exploits in international football; even as he urged the country to continue to lead the way for the benefit of other African nations. Meanwhile, Senate President Saraki, who received Ahmad and the NFF delegation led by 2nd Vice President/LMC chairman Shehu Dikko in his house, noted: "We are a nation of very passionate football fans. Football, like other areas of life, needs visionary leaders who can institute reforms for good governance.
"We are happy with the developments at FIFA level and we desire the same for CAF. There is need for policies that will stimulate rapid development of African football." Sports Minister Dalung affirmed that football is a major unifying factor in Nigeria, a multi-cultural country of over 250 ethnic nationalities and about 170 million people.
"Our country has made, and is still making major contributions to peace and security in several African nations, and has also been making positive contributions in the game of football. Over 70 per cent of Africa's youth are unemployed, and we believe that with good governance and excellent management of resources, football can provide employment for hundreds of millions of Africa's young population and by so doing, reduce social vices and restiveness. "The barriers against Africa competing favourably in the international sphere must be broken. There are a lot of impediments, including poor infrastructure. FIFA should allot more money to Africa for infrastructural development, and there must be equity.
"We cannot afford to remain a mere plucking ground for the European Leagues. The leaders of African football must address these salient issues". With Ahmad were Dikko, Dr. Mohammed Sanusi (NFF General Secretary), Dr. Ifeanyi Ubah (proprietor of FC IfeanyiUbah and Chairman of Anambra State FA), Dr. Emmanuel Ikpeme (NFF Deputy General Secretary), Mr. Ademola Olajire (NFF Director of Communications) and Mr. Chikelue Iloenyosi (special assistant to NFF President).
Ahmad was first received by the NFF Management at the Glass House, and later visited the office of the League Management Company, where he addressed media representatives, before flying out of Nigeria on Thursday night (Vanguard).