FA Cup: Wolves coach Paul Lambert gives it to 'relentless' Chelsea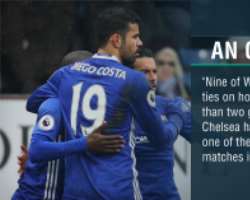 Paul Lambert believes it's going to take "some team" to stop a "relentless" Chelsea, as he backed Antonio Conte's side to do the double, following Wolves' 2-0 FA Cup defeat to the Premier League leaders. Chelsea did not seem at their best in their fifth-round win, but Lambert was still blown away by their speed on the break. Pedro and Diego Costa scored second-half goals, after what had been a hugely spirited Wolves first-half display.
"For some team to stop them is going to be really difficult," Lambert said. "I'm proud of my team because we made this game what it was. We were fantastic.
"They're relentless. Some of their top lads didn't play for them but look at their team. I thought it might be a tad weaker but look at that their front three [Costa, Eden Hazard, Willian] alone. It's going to be one hell of a team to stop them from getting both trophies."
Lambert chuckled that he faced one of Antonio Conte's teams before as players, when the Scot's Borussia Dortmund side beat Juventus 3-1 in the 1997 Champions League final.
"Every player in the squad can be really high level. They have a fantastic manager. Antonio was a fantastic player in his day and he knows the emotion on and off the pitch. I never realised until I spoke to him before the game that he was part of the Juve team that Dortmund beat in 1997. So I'll take 1-1. They're firing on all cylinders, they're a right top side. I know the league isn't over – Man City will have a big say in it – but Chelsea are very very strong."
Lambert also expressed pride in his own team's display.
"What's happened in the cup run generated the atmosphere we had tonight," he added. "To knock out two Premier League teams [Stoke City and Liverpool] made this a special night. When the atmosphere is like that this is special place to play football. You saw by the clapping at the end that the players really appreciated. Everyone should leave here with their heads held high, I'm proud of them. I couldn't have asked for anything more."