Gabriel Jesus grabs late winner for Manchester City as Swansea left heartbroken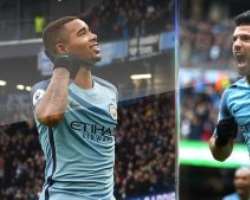 Just when Manchester City fans were chuntering to each other that they had seen this particular film before, up popped Gabriel Jesus to clinch a 2-1 win over Swansea, which may yet resonate through to the last few weeks of the season.
Dominant and exuberant before the break, Pep Guardiola's young side fell asleep in the second and were pegged back. It was as inevitable as day following night.
What followed was also a slice of typical City, with a last gasp win pocketed by the newest superstar on the block, Gabriel Jesus.
Positives
The exuberance of the first half again revealed a glimpse of City's future. Things are changing swiftly and the beginnings of the Guardiola revolution are now plain to see.
In Jesus, City have a catalyst to their already pleasing one-touch link play. It now happens at greater speed with the added slice of the exotic and unpredictable at the top end of the diamond.
Negatives
With all change processes, especially one like this as youth is ushered in, patience is necessary. Young players are often unpredictable and inconsistent. This was revealed to an extent by Raheem Sterling and Leroy Sane, who went noticeably off the ball in the second half after a coruscating first 45 minutes.
Manger rating out of 10
8 — Guardiola is maintaining the courage of his convictions — no surprise there — and again played young Jesus ahead of top scorer and Premier League icon Sergio Aguero.
Just when it looked to have backfired, his young striker pulled the result out of the fire.
Player ratings (1-10; 10 = best. Players introduced after 70 minutes get no rating)
GK Willy Caballero, 7 — The stand-in was again solid and competent, dealing well with Gylfi Sigurdsson's swirling free kick just after the break. Beaten by the same player for the equaliser but he was not at fault for a well-placed shot. Delivery has improved too.
DF Fernandinho, 7 — Early possession was comfortable enough, but had less influence from his place at right-back. Produced a lovely flick for Sterling to progress up the right and set up one of many missed first half chances.
DF John Stones, 8 — Untroubled in the centre, his strolling performance was as much a view of the club's future as the runners and magicians doing their fancy work further forward. Resorted to the massive boot to clear in the more crowded environs of the second half.
DF Aleksandar Kolarov, 7 — Comfortable all afternoon, but under far more pressure during the second half. One or two ventures upfield too, with a header just wide from a Kevin De Bruyne corner.
DF Gael Clichy, 6 — Not much to do on his side, but still enough time for the occasional pass straight into touch to remind the fans that he was still there.
MF Yaya Toure, 8 — Strolling majestically around midfield with little to trouble him to start with, but had some problems changing up through the gears in the second half when City needed to react.
MF Kevin De Bruyne, 7 — Plenty of range in his first half passing: short, short, short, then suddenly a pass with either foot from his own flank to Sane or Sterling at the far corner flag on the opposite side. Booked for clipping Martin Olsson by fussy referee Mike Dean.
MF Leroy Sane, 8 — The exuberance of his jinking, swerving first half performance contrasted starkly with much of his efforts after the break, when he appeared to go significantly off the boil. Pulled himself together and finished strongly.
MF David Silva, 9 — Buzzing around a cluttered midfield area, he was as ever the fulcrum for everything good about City's forward movement. Faultless passing all afternoon, but without the extra touch he took from Jesus' flick, City would have been two up and clear. Still pushing right at the end, producing the cross for the winner.
MF Raheem Sterling, 7 — Booked in a first half penalty incident, when Lukasz Fabianski's leg caught him in the box but Dean saw it as simulation. Compare with his effort to stay on his feet when pushed by Kyle Walker against Tottenham.
FW Gabriel Jesus, 9 — What an impact the youngster is having. After a goal at Crystal Palace, two more here. The first an elevated toe poke in among the flying feet, the second a cool tap-in after his header had been saved. A masterclass of flicks and feints completed the picture.
Substitutes:
DF Pablo Zabaleta, N/R — Came on for De Bruyne after 77 minutes and added some thrust to a wilting effort. Integral part of a helter-skelter finish.
FW Sergio Aguero, N/R — Replaced Sterling with eight minutes to play, and was immediately involved, pulling the Swansea defence all over the place. Cracking header just over was the last action of a breathless finish.
MF Fernando, N/R — Came on for David Silva after 94 minutes to help ease the clock down.