HOW ENGLAND WON ICC WORLD TWENTY20 TOURNEY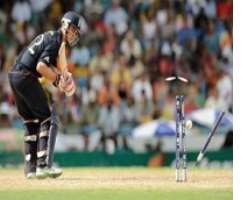 IT might have been 35 years in the making, but some will argue that it only made England's triumph in the World Twenty20 in the West Indies on Sunday sweeter.
Its first ICC, title after failure in 19 competitions and four finals, prompted jubilant celebrations from the players, members of staff and those supporters lucky enough to have lapped up England's demolition of Australia from the stands in Barbados.
However, it is a remarkable turnaround for a country that invented the short form of the game in 2003, but has been little more than also-rans at international level in previous years. In the previous two World Twenty20s, England had never progressed past the Super Eights stage, and only last year it lost five of the eight completed Twenty20 games it played.
So, where did it all go right? First and foremost, credit has to go to the selectors for abandoning a long-standing and frustrating tradition of relying on the tried-and-tested "safe" options in an England XI, and opting instead for players rich in ambition, aggression and intent.
Left-field selections such as Michael Lumb, Craig Kieswetter and Michael Yardy – and even the decision to leave star Test bowler, James Anderson, on the sidelines – proved inspired. The only time England changed its XI through the entire tournament was when Ravi Bopara replaced Kevin Pietersen against New Zealand – and England won that match as well.
"People forget our selectors have done a good job," Geoffrey Boycott told BBC Sport. "They've looked around the counties, they've brought in people like Kieswetter, Lumb, Tim Bresnan and Yardy, and they've excelled.
"You can't play as a team unless the selectors pick the right players. It's a like a football manager – they pick the right players to fit into the team in the right way, and the selectors have done very well."
The most notable difference was in the batting. Having endured years of nudgers and nurdlers, England bit the bullet and turned to players who, while potentially more erratic, were willing and able to smash the ball out of the park. Lumb and Kieswetter were the tournament's stand-out opening pair, time and again providing a platform for the side with a confident and often brutal approach to the opening six-over power play.
Kevin Pietersen, coming in at three, was named player of the tourney thanks to an average of 62 in six innings, at a strike rate of 137.77, while Eoin Morgan and Luke Wright displayed their explosive power in innings-turning stands against West Indies and New Zealand.
Even captain Paul Collingwood, who might not have had the best tourney with the bat, and Bresnan, at seven, shared 10 crucial boundaries between them. In fact, of those who batted for England, not one – with the exception of Bopara in his single match against New Zealand – had a strike rate of less than 100.
As Collingwood, a veteran of 176 one-day internationals and 29 Twenty20s, said, "this is certainly the most powerful England side I've played in. When you look at all the guys going down to probably number 10, everyone can hit sixes."
As Pakistan might have admitted after its semi-final loss to Australia, though, it is no good dominating with the bat if you cannot back it up with the ball. And England's bowling unit shone. It is telling that, of the 108.2 overs England bowled in the tourney, the same five players delivered 106.2.
Well-laid plans were executed every match. Bresnan and Sidebottom opened up and more often than not bagged early wickets; Stuart Broad, as first change, provided a one-man show on a paceman's variations – bouncers, yorkers, slower balls, leg-cutters, off-cutters and length. The twin spin attack of Graeme Swann and Michael Yardy suffocated and frustrated the opposition in the middle overs, before Sidebottom, Broad and/or Bresnan saw the job home through the crucial final overs.
Swann, also the most frugal of England's bowlers, and Sidebottom led the way in terms of wickets with 10 apiece, while Broad bagged eight. But from the Super Eights onwards, every bowler put his hand up at one time or another.
Yardy's 2-19 off four overs strangled Pakistan, Swann and Sidebottom shared six wickets against South Africa, Bresnan yielded just 20 runs off his four overs against New Zealand and Broad's 2-21 put paid to Sri Lanka's hopes in the semi-finals. Even Wright, in his solitary over for the tourney in the final against Australia, went for just five and took the crucial wicket of big-hitter Cameron White.
The bowling unit, though, must also doff its caps to England's fielding efforts – marked as the best in the tourney alongside Australia. Stuart Broad's spill of David Hussey in the final aside (and even then he made up for it with a spectacular take to dismiss White in the next over), England's hands was safer than houses.
Pietersen's run and jump to dismiss Umar Akmal in the Super Eight stages was a cracker, Broad's pouch on the boundary while keeping his legs inside the rope to send New Zealand's Aaron Redmond packing was smart, while Collingwood and Kieswetter both took beauties in the final.
Michael Lumb's run-out of David Warner in the final also reflected an increased athleticism that helped them pressurise and restrict opposition teams. Boycott noted: "The athleticism of our fielding throughout the tournament was exceptionally good because at times we've been a bit ponderous in years past."
Paul Collingwood's role as captain has undoubtedly been crucial. The man who bowed out of the one-day captaincy in 2008, unable to cope with the pressures of the job on and off the field, has returned a better skipper. The Durham maestro has generated a harmony in the dressing room; one full of "thinking" cricketers afforded the freedom to express themselves with bat and ball.
"Whereas maybe in the past they were always kind of guided by the captains, they really are going out there and thinking what the opposition's strengths and weaknesses are and adjusting the fields accordingly," Collingwood said.
"That's been one of the crucial things in our development; the guys are so confident and focused on the jobs they've got to do, the roles they've got to play. We are confident, but not too confident."
Coach Andy Flower, too, deserves a heap of credit. The Zimbabwean's high standards have ensured a fitter, fresher, more dynamic side than arguably England has ever fielded in the one-day arena. His training drills have impressed upon his team the need – and skill – to hit sixes, to mix up its bowling, to take catches, to throw down the stumps – and all of them combined paid dividends.
"England looked the complete unit. The boys are enjoying themselves and enjoying each other's successes," England's former paceman, Simon Jones, told BBC Sport. "Everyone's putting their hands up and they are playing as a unit, which is not something we've seen before in one-day cricket with England. It's a sure sign of Andy Flower, Collingwood and his team working really well together."
For some, though, there is no getting away from the fact that England's team has more than a hint of foreign influence about it. Even aside from the fact that the coach, Flower, is Zimbabwean, the starting line-up in the final boasted four players born outside of England's green pastures.
Kieswetter, Lumb and Pietersen – England's top three – were all born in South Africa, while another of its batting stars, Eoin Morgan, is as Irish as Riverdance and Guinness. The 23-year-old even played against England for Ireland the last time those two sides met before the group stages in the Windies.
Those four were far and away England's most prolific batsmen – Pietersen, Morgan and Kieswetter had the three best averages – and the quartet's strike-rate was better than everyone's except Wright and Bresnan. At the end of the day, though, does it matter? Not according to Boycott: "Yes, we have a number of South Africans in the team and we'd prefer them to be English. But the rules are as they are and the selectors have done a tremendous job."
And England's other former captain, Nasser Hussain, too, insisted on his commentary with Sky Sports on Sunday that he "has no problem with the selectors picking the players that are available to them."
• Culled from BBCsports.com