Diego Costa misses penalty but Chelsea leave Anfield with a point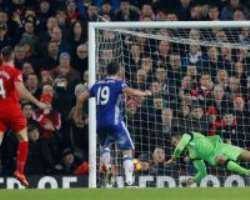 Liverpool 1 Chelsea 1
At the final whistle, there could be no doubt which set of players should be the more satisfied. Liverpool had ended their run of defeats, sparing themselves the possibility of a fourth successive loss at Anfield for the first time since 1923, but at this stage of the season they will also be acutely aware this was a match they probably had to win if they are to have any realistic chance of catching and overhauling Chelsea at the top of the table.
On that basis, Antonio Conte's men will reflect on a decent night's work even if they will also be acutely aware it might have been considerable better. They had led through David Luiz's free-kick and Diego Costa will be wounded that he could not beat Simon Mignolet with a 75th-minute penalty on a night that showed the good and bad of Liverpool's goalkeeper.
In between, Georgino Wijnaldum headed in Liverpool's equaliser and it was certainly a spirited effort from Jürgen Klopp's men. Ultimately, though, they have now won only one out of their past nine matches in all competitions and in the last 11 days they have gone out of two cup competitions.
At one point in the first half, Klopp could be seen turning to the supporters behind the Liverpool dugout and signalling that he wanted more noise. It has become a familiar scene and for Klopp the sound and fury is mandatory if the team are to get where he wants. Those demands tend to wear a little thin when the team are experiencing this kind of distress. In happier times, Klopp's appeals for extra volume have brought obedient roars – on this occasion, however, not everybody welcomed it.
Chelsea had scored a couple of minutes earlier and it was a dreadful goal to concede, particularly given what it revealed about the level of organisation in the team's defence. David Luiz's speed of thought was commendable and it was a skilful finish, 25 yards out, when he realised that his opponents might be vulnerable to a quickly taken free-kick. Yet it was still startling to see a team with Liverpool's ambitions – or, indeed, any top-level team – being culpable this way and another ordeal that adds to the considerable evidence that Mignolet makes far too many lapses to be an elite goalkeeper
His penalty save makes a considerable case for his defence but Mignolet was not even looking at the ball when David Luiz took a few steps forward and aimed his shot over what barely passed as a defensive wall.
Adam Lallana , Jordan Henderson and Roberto Firmino were all lined up and Philippe Coutinho was making his way over. Liverpool, in other words, did not have a single defender in their wall and that might help explain why they were stood around like four men idly waiting at a bus stop. Mignolet had wandered from one side of his goal to the other and David Luiz impudently aimed the ball in precisely the spot the Belgian had deserted.
Liverpool had started the game like a team trying to save their season and had considerably the better of the first 20 minutes. There was no question about their attitude and it was the same at the start of the second half.
Another team's confidence might have been damaged by their recent results but there was no evidence of that here and that, perhaps, was the most impressive aspect of their performance.
If their self-belief was affected, they certainly disguised it well during the burst of pressure that brought them Wijnaldum's equaliser and Firmino ought to have done much better before that when the ball appeared, fortuitously, at his feet, with nobody around him. It was a golden chance and, as his shot went off at a horrible angle, Liverpool's supporters might have wondered whether it was going to be another chastening night.
Yet Chelsea were being subjected to some concerted pressure, with Coutinho and Lallana becoming increasingly influential. In the 57th minute, Jordan Henderson swung over a deep cross from the right. James Milner had advanced from his left-back spot and his header across the six-yard area flicked off Victor Moses's shoulder before Wijnaldum's downward header went beneath Thibaut Courtois.
Conte might reflect on that moment a few minutes earlier when Milner lost the ball inside his own area and Victor Moses struck the outside of the post with a low, diagonal shot but Chelsea's attacks were becoming increasingly sporadic before Costa surged through the middle for the penalty incident.
It looked very much like Costa's sole intention was to convince the referee, Mark Clattenburg , that Joël Matip had impeded him on the way.
Costa picked himself up and struck the penalty with power but Mignolet dived to his right to pull off a splendid save.
Klopp brought on Sadio Mane , back from the Africa Cup of Nations, in the closing exchanges but it was Chelsea who finished as the stronger side.
(Guardian service)