Roger Federer beats Rafael Nadal to claim fifth Australian Open title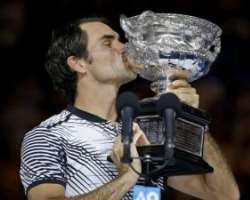 What was billed as the fantasy finale, a dream match-up, one for the ages, justified all the pre-match hype. A memorable tournament that drew a record attendance of 728,763 finished in truly unforgettable fashion, 6-4, 3-6, 6-1, 3-6, 6-3 as a wounded Federer swept the last five games after trailing 3-1 to claim his fifth Australian Open, and first since 2010. It ended a string of four grand slam finals losses to his Spanish tormenter since his last victory almost a decade ago.
So, at last, No.18, while Nadal remains tied with Pete Sampras on 14. Not just breathing space, but joy. Mostly, pure joy. Perhaps of the kind the 35-year-old doubted he would experience again. Certainly, Federer did not anticipate it would be here, not yet, in just his first official tournament after a knee injury prompted a six-month rehab-and-refresh break from the game. A fourth round would have been good, a quarter-final great, and the first major between the two champions since 2012 quite incredible.
Roger Federer beats his old foe to claim the Australian Open.  Photo: Eddie Jim

The Norman Brookes Challenge Cup was presented by Rod Laver, on his court, which was only fitting. The love-in, though was three-way, with comeback king Federer also acknowledging Nadal's stirring return from a lengthy break with yet another injury, this one to his wrist.

"I don't think either of us believed that we were going to be in the finals of Australia when we saw each other at your academy five months ago," Federer said. "I'm happy for you. I would have been happy to lose tonight, to be honest. The comeback was perfect, as it was. Tennis is a tough sport. There are no draws, but if there was, I would have been happy to have one tonight and share it with Rafa, really."

Advertisement
He hoped, he said, to be back next year, "but if not, this was a wonderful run here." Nadal, five years his junior, but playing at his least fruitful major, had to be content with a third runners-up plate to go with his sole title, from 2009. "This is beautiful, but still maybe better the trophy," the ninth seed said, graciously. "So I'm going to keep trying hard to have the trophy with me again in the future.

"It was a great match. Probably Roger deserved it a little bit better than me. I feel like I'm back at a very very high level, so I'm going to keep fighting through the whole season, to have a great season, and I'm sure to come back."
The moment he won: Roger Federer celebrates championship point.  Photo: Clive Brunskill

By adding to his Melbourne Park titles from 2004, 2006, 2007 and 2010, plus seven Wimbledons, five US Opens and that sole success at Roland Garros, Federer became the first man in history to own five or more titles at three different slams. He is also outright third on the list of Australian championship winners, behind only six-time guys Roy Emerson and Novak Djokovic.

At 35 years, 174 days, he becomes the second-oldest man to win a major in the Open era, after Ken Rosewall, who won three after the age of 35, while Federer now has two. No man has gone longer between Australian titles in the Open era, but this one was worth the wait. "It's going to be a big party," he said, after beating his fourth top 10 opponent in seven rounds.

Still, as dramatically as it finished, the crowd, like the match, took a little while to get going, eventually ignited, 24 minutes in, by a fine Federer return game, including some flat, aggressive backhands, forceful rallies and a fine drive volley to earn the only break point of the set. He was serving strongly, trying to dictate terms on the fast Plexicushion, and mostly succeeding.

Things amped up further in the second, with Nadal the first to strike via the proven formula  of jumping forehand pounding Federer's one-handed backhand and with the help of a double-fault in the second game. But the Swiss missed two opportunities for an immediate break back in an eight-minute sequel, his forehand starting to misfire, a 10th error on that wing leaving the 17th seed down 0-4 in an unforseen momentum shift. After 76 minutes, the most anticipated of five-set matches had been reduced to best-of-three.

A key 10-minute game started the third, as Federer led 40-0 before saving three break points with aces, then broke through himself in the next. One incredible forehand winner from the baseline was a virtual half-volley, struck perfectly. His feet were dancing and his eye was back in. The 6-1 set was Roger's first against Rafa in more than six years.

But, just when he again seemed to be cruising, circumstances almost mirrored those in set two. A couple of errors to start a loose fourth game allowed Nadal back in, and one of the greatest competitors the sport has seen does not require more than the sniff of an invitation. Or a weakness. It was a lapse Federer would soon come to regret.

Just the fifth major final in the Open era – and first since Andre Agassi and Pete Sampras contested by two 30-somethings would be stretched to a deciding set. The wildcard was Federer's health, though, for he left the court for a medical timeout, just as he had at the same stage of his semi-final against Stan Wawrinka. Had his sore leg massaged. Took a moment. Regrouped.

Federer was broken in the opening game of the fifth, appearing to struggle a little physically, the cause seeming almost lost, the trainer soon back on court again. Yet he still managed to earn at least one chance to draw level in each of Nadal's first three service games, and finally it was back to 3-3. There were, clearly, more twists to come.

There was also a renewed energy and purpose in Federer's game, as Nadal's serve wilted under the pressure he has withstood so many times before. But not this time. In the eighth game, he was broken again on Federer's fourth opportunity. Over? No chance, as Federer found himself down 15-40 while serving for the championship. The first was saved with an ace, the second with an off forehand winner.

Over? Not yet. When the moment came, Federer twice challenged line calls on his serve, got one right and one wrong, before shanking a forehand long. When the second moment came, a Fed forehand landed close to the sideline, was called in, challenged by Nadal. A brief wait only delayed the inevitable. In. Over. Celebrate.

"Incredible", said Federer, who leapt up and down, bellowed, embraced Nadal, then cried. Of course he did. Nadal had said after reaching the final that everyone should enjoy what was coming, because it may not happen again. We did. While hoping that this time is not the last.

"You don't know if they ever come back, these moments," admitted the Swiss veteran. "Against rafa it's always epic. To get one go my way in a fifth set is super special… This is a milestone in my career."