Chelsea striker Diego Costa dropped after row with Antonio Conte and fitness coach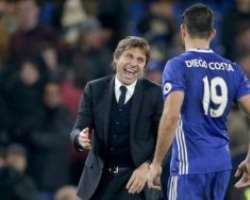 C helsea's Premier League title bid has been hit by a new Diego Costa row on the back of the striker ­becoming the latest Premier League star to receive a huge offer from China that would make him one of the highest-paid players in the world.
Telegraph Sport understands head coach Antonio Conte has dropped Costa for Saturday's Premier League trip to Leicester City in which leaders Chelsea are looking to bounce back from the defeat against Tottenham Hotspur that ended their 13-game winning run.
Costa did not train with the rest of the squad for the past three days after a bust up over an injury with a club fitness coach, which developed into a heated row with Conte. Sources claim Conte shouted 'go to China' and Costa did not travel to Leicester.
 Chelsea are also aware that he has received a staggering offer from China, with at least one club telling the Spain international that they are willing to pay him £30 million-a-year net to lure him from Stamford Bridge.
That would put Costa on £576,923 a week, not far behind the world's highest-paid player Carlos Tevez, who signed for Shanghai Shenhua on around £615,000 a week .
T ianjin Quanjian , who have signed Belgium midfielder Axel Witsel, are in the market for a striker and have been linked with an £80 million bid for Costa.
But Chelsea owner Roman Abramovich is adamant that Costa will not force his way out and has told colleagues that he is willing to hold the 28-year-old to the two years remaining on his contract if he pushes for a move.
Asked about the money on offer in China, Conte recently said: "I must be honest, I think it's not right. It's not right, this. Because you must have respect for the money and then if there are these offers, this type of offer… but I don't agree, I don't agree with this situation."
Chelsea had been hopeful of agreeing a contract extension with Costa after the player had indicated that he was far happier with life in England, but the latest issue raises big doubts.
Costa is famed for his combustible personality and his moods swing so dramatically that he can change from appearing to be desperate to leave to being happy once again in the space of a few days.
Costa is the latest player to be courted by China CREDIT: AFP

C helsea will hope this latest episode quickly blows over, but it has given Conte a major headache as he attempts to get his team on to ­another winning run after he collected the manager of the month award for December, setting a Premier League record by taking the trophy in three successive months. Having punished Costa by leaving him out of the Leicester game, ­Conte is likely to play Eden Hazard through the middle with Pedro ­Rodríguez and Willian wide, as he did when Costa was suspended for the game against Bournemouth that Chelsea won 3-0.

Costa this week posted a series of pictures and videos on social media of him training on his own away from Chelsea's Cobham base, ­following the bust-up.

C osta is the Premier League's top scorer with 14 goals and had looked to have been tamed by Conte for a long period this season, when he went 11 games without being booked.

The pair had also struck a close personal relationship, despite Costa showing his frustration at being shouted at by Conte in the victory over Leicester at Stamford Bridge by signalling that he wanted to be substituted.
Costa gestures towards the Chelsea bench during the Leicester game at Stamford Bridge earlier this season 

C osta was warned not to repeat that behaviour and Conte has taken action after this week's fall-out, with Chelsea and Abramovich also adopting a strong stance that they will not be bullied by Chinese money.

Conte played down an incident between Costa and Pedro in the ­defeat at Tottenham, when Costa shouted at his team-mate for not making the correct run after a chance went begging.
Costa remonstrates with team-mate Pedro during the recent defeat at White Hart Lane CREDIT: ACTION IMAGES 

T here have also been reports of other instances in which Costa has let his passion get the better of him in training, but they have all been quickly dealt with.

Conte hinted that he had at least one big decision to make for the Leicester match by saying: "I have to check a couple of situations and then decide. I don't want to say ­exactly what and give an advantage to our opponent."
Conte had previously been credited with keeping the forward in check CREDIT: REX FEATURES

A sked, in relation to Dimitri Payet going on strike at West Ham United , whether he has ever had a player refuse to play for him, Conte replied: "It's very difficult to talk and above all for me it's very difficult for me to talk about another player. For my club, for my players, we solve our problem if there are problems. This is important."

Despite previous flashpoints ­under Conte this season, Costa's ­behaviour had improved markedly until the latest incident. Last term, the former Atlético Madrid star tossed a bib in the direction of then manager Jose Mourinho and was involved in a training-ground fight with Oscar, who has now moved to China
Conte had enjoyed a relatively trouble-free season before the latest bombshell CREDIT: REX FEATURES

C osta has admitted that he wanted to re-join Atlético last summer, but was talked into staying by Conte and it now remains to be seen whether he can again be convinced to ignore outside interest and ­regain his Stamford Bridge focus.

The headache over Costa could influence Conte's decisions over strikers during the January transfer window. He is interested in signing Fernando Llorente from Swansea City and wants to keep Michy Batshuayi, who is a loan ­target of West Ham, his former club Marseille, Paris St-Germain and Lille.

Conte has insisted that captain John Terry will stay at Chelsea this month, despite interest from Bournemouth, saying: "I speak with him every day and John never talked to me about this situation. It means that he is very happy to stay here and, above all, I am very happy that John stays here and helps me."