ZUMA INVITES JONATHAN FOR WORLD CUP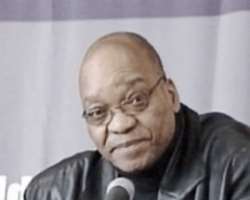 Jacob Zuma
South African President Jacob Zuma on Monday formally invited Dr. Goodluck Jonathan to the 2010 FIFA World Cup, which kicks off in South Africa on June 11.
The invitation was extended by South Africa's Minister of International Relations, Mrs. Maite Nkaone-Mashasane, who was in the State House to express her country's condolence to the people and Government of Nigeria over the death of the late President Umaru Yar'Adua.
The minister also conveyed Zuma's congratulations to Jonathan on his new position as the President and Commander-in-Chief of the Armed Forces of the Federal Republic of Nigeria.
'President Zuma will be delighted to personally host President Jonathan during the tournament', she said, adding that although South Africa is the venue of the tournament, Africa is the theatre.
The South African envoy also expressed hopes that an African team would emerge champions at the end of the tournament.
'If Bafana Bafana fails to carry the trophy, Nigeria should aspire to do it,' she said.
Also on Monday, Ghanaian President, Mr. John Atta-Mills, also visited the Presidential Villa to convey the condolences of the Government and people of Ghana to Nigeria on the passage of the country's late President.
Addressing journalists after signing a condolence register, Attah-Mills explained that Ghanaians identified with Nigerians in their moment of grief.
'I led a delegation of ministers, the Chief Imam of Ghana and other representatives to convey our deepest condolences to the people of Nigeria, the President of the Federal Republic of Nigeria, and especially the family of the former President.
'We in Ghana will continue to pray for him,' Attah-Mills said.
The Ghanaian President noted that the late Yar'Adua made positive contributions to the quest for peace and development on the continent.
'He has made his mark in the sands of time; may the good lord grant him eternal rest'.
Congratulating Jonathan on his new office, Attah-Mills noted that his earlier experience as Vice-President and Acting President would enable him to live up to the expectations of Nigerians.
'He is no stranger having been a Vice-President and Acting-President,' he said.
The Ghanaian leader also wished Jonathan well, and assured the new President of the support and goodwill of the Republic of Ghana.
'We wish him the best and assure him of the deepest corporation of the people and Government of Ghana,' he said.