Jose Mourinho is the best coach in the World: Eric Bailly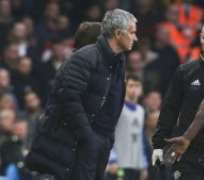 Manchester United defender Eric Bailly has told Sky Sports that manager Jose Mourinho is "the best in the world."
Bailly, who has not played since suffering a knee injury at Crystal Palace on Dec. 14, has made a positive impact under Mourinho at Old Trafford.
The Ivory Coast international, in his country's squad for next month's African Nations Cup, joined from Villarreal in the summer and said: "He [Mourinho] is a great manager, the best in the world.
"It is a pleasure to work and learn with him. I hope it continues like this and that I stay at United for a long time.
"I'm truly happy with my team and my teammates. Bit by bit, I'm getting to know more."
Bailly has shown his battling qualities in 16 appearances for United this season, picking up six yellow cards along the way and said: "La Liga is the best in the world, but here it is different, very direct. There is more contact and more strength.
"And like I said, little by little, and with more training under this manager, I hope to improve. Manchester is a nice place. I'm happy here."