Pogba "the best midfielder in the world": Mourinho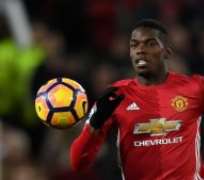 Paul Pogba arguably looks better each week as his (re)adjustment to the Premier League continues at Manchester United.
The 23-year-old Frenchman registered an assist against Sunderland as Manchester United won its fourth-straight PL match to stretch its unbeaten league run to nine.
Pogba was credited with just one goal in his first nine Premier League encounters, but has two goals and three assists in his last eight appearances for the Red Devils.
Jose Mourinho says it shouldn't be about numbers with Pogba, however, telling a French TV station that the player is the best midfielder in the world. In fact, he says a Ballon d'Or should be in the offing for Pogba.
Here's Mourinho,  passed along by Sky Sports :
"At the moment, if you're not a goal scorer, you cannot win the Ballon d'Or," Mourinho said. "But if the perception changes, then Paul can win it, because Paul is not a goal scorer.

"Paul is a midfielder who will score more and more goals, because I think he has good conditions to score goals. Paul is a midfielder, in my opinion, the best, the best in the world."