Ibrahimovi's brace gives Man United win over stubborn West Brom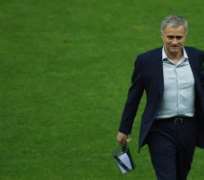 WEST BROMWICH, England — Three quick thoughts from Manchester United's 2-0 Premier League win at West Bromwich Albion on Saturday.
1. Ibrahimovic gives Man United third win in a week
Maybe, just maybe, Manchester United really are on the way back. A third Premier League win in a week — and 10th unbeaten game in all competitions — suggests a corner is being turned, and the manner of this straightforward victory said as much as the result. An in-form West Brom side was dealt with comfortably from the moment Zlatan Ibrahimovic headed United into a fifth-minute lead; his second goal, scored early in the second half, confirmed an efficient evening's work that contained its moments of sparkle.
United could hardly have expected a better start here. Ibrahimovic's first goal owed everything to three direct, raking balls of the kind perhaps more readily associated with their opponents but was no less attractive for that. The move began when Paul Pogba switched the play to Antonio Valencia deep inside his own half. Valencia instantly played a long pass down the line to Jesse Lingard, who had gained a couple of yards on Allan Nyom, and the winger instantly clipped a cross into the box on the bounce. Ibrahimovic, unmarked and onrushing, does not miss chances like this.
It almost was 2-0 midway through the first half when Wayne Rooney, still looking for the goal that will equal Sir Bobby Charlton's United record, saw an 18-yard shot turned onto the bar by Ben Foster after more good work from Lingard.
Ibrahimovic then risked greater punishment than a yellow card after clattering Craig Dawson at shoulder height with the ball long gone. Referee Anthony Taylor probably made the right call in booking the goalscorer, on balance, and at that point it would have taken an expulsion to cast United's sense of control into doubt. It was half an hour before West Brom created a genuine chance, although the in-form Salomon Rondon should have done better than glance Matt Phillips' cross wide when they did.
Lingard could have doubled the lead moments before half-time when, with the Albion defence confused by Matteo Darmian's hopelessly sliced effort, he blazed over from an angle. But the second goal did arrive after 10 quiet second-half minutes when Ibrahimovic struck again. This time, fed by Rooney on the left of the area, he showed deft footwork to skip between two defenders before getting slightly lucky with a drilled effort that deflected off Craig Dawson to give Foster little chance.
Darmian blocked from Phillips 20 minutes from time at the back post as Albion, struggling to create anything meaningful, applied some pressure. It never looked like bearing fruit as the match quickly petered out — and United cruised home.
2. Man United's star quality is showing
This had always looked likely to be a useful litmus test for United's recent improvement. Back in March, with a number of stultifying performances under Louis van Gaal behind them, they produced one of their very worst during a 1-0 defeat that saw them barely threaten the West Brom goal. The change since then has been incremental, but at a nine-month distance, it looks significant. United now have the star quality and problem-solving ability to come through tests like this, and as their high-profile summer signings look more comfortable, their sense of authority is spreading throughout the rest of the team.
Ibrahimovic, with 11 goals in 16 Premier League starts, has been fundamental to that and perhaps his barge on Dawson — which the home fans certainly felt merited a red card — was in one sense evidence that the spikiness associated with Jose Mourinho's sides has returned. But more eye-catching was United's overall control.
West Brom rarely let opponents settle but were held at arm's length from the moment United took the lead; Pogba, a relatively restrained figure going forwards but setting so many attacking moves in motion, dominated physically and technically as the visitors kept hold of possession. He operated on the left during the second half, and his natural ability is beginning to come out consistently.
United were slick on the ball at times, particularly before the break, and adept at going through the gears when chances arose to attack. Further back, Phil Jones won an occasionally feisty grapple with Rondon, and Marcos Rojo, alongside him, continues not to look out of place.
Zlatan Ibrahimovic bagged both goals as the Swede led Manchester United to a 2-0 win over West Brom on Saturday.
There is, as Mourinho knows well, plenty more to be done. United could certainly score more goals, and this margin of victory fell short of making a statement of its own. They still have a frustrating tendency to sit too deep too early, and that was in evidence again here. But, bit by bit, this looks more like a Mourinho team and more of a United one too — and to prove the latter point, you only have to look back at that bleak afternoon here in the Spring.
3. West Brom disappoint, but outlook remains bright
The Hawthorns is a much happier place than it was two months ago, but West Brom had cause for frustration here. They had won four of their previous six league games, scoring 10 in their past three on home turf, and fancied their chances of continuing their unlikely push towards the European places at the outset.
It never really looked like turning out that way. Pulis prides his sides on running a tight ship and will be deeply frustrated at the manner in which they handed United the early initiative after a strong opening few minutes. It was a straightforward, vertical move that prised them open; Nyom was arguably caught too far forwards, and perhaps West Brom were punished for what appeared to be an appetite to test United from the off.
There will be other regrets. Rondon, one of the league's outstanding centre-forwards on recent form, scored a hat-trick of headers against Swansea in midweek but was given little decent service here — although he should certainly have done better than head Phillips' first-half cross past the far post. A near-post flick across goal from Jonas Olsson was the only other occasion that United were genuinely troubled as West Brom struggled to do what they do best: win the ball in midfield and work it wide swiftly.
What their owner Guochuan Lai — who watched from the stand here — made of things is anyone's guess. But the assumption must be that this is not the kind of result or performance to sway his faith in Pulis, who signed a contract extension to 2018 in October. It was not a good day at the office for West Brom, but the strides made so far this season should ensure that is of little consequence.