EPL: Chelsea, Arsenal, Liverpool, Man City and the other title contenders assessed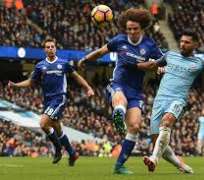 It was another pivotal weekend in the Premier League, with Chelsea moving three points clear, Arsenal and Tottenham producing five-star displays, Manchester City and Liverpool suffering defeats and Manchester United losing more ground.
But although there is a familiar feel to the top six, it really is anyone's guess as to how the final standings will look in May.
As we enter the crucial festive period, Sportsmail assesses the strengths and weaknesses of the title contenders and what happens next.
| | Team | P | GD | Pts |
| --- | --- | --- | --- | --- |
| 1 | Chelsea | 14 | 21 | 34 |
| 2 | Arsenal | 14 | 19 | 31 |
| 3 | Liverpool | 14 | 17 | 30 |
| 4 | Manchester City | 14 | 15 | 30 |
| 5 | Tottenham Hotspur | 14 | 14 | 27 |
| 6 | Manchester United | 14 | 3 | 21 |
| 7 | West Bromwich Albion | 14 | 3 | 20 |
| 8 | Everton | 14 | 1 | 20 |
| 9 | Stoke City | 14 | -3 | 19 |
| 10 | Bournemouth | 14 | -3 | 18 |
| 11 | Watford | 14 | -6 | 18 |
| 12 | Southampton | 14 | -2 | 17 |
| 13 | Middlesbrough | 14 | -2 | 15 |
| 14 | Crystal Palace | 14 | -2 | 14 |
| 15 | Burnley | 14 | -11 | 14 |
| 16 | Leicester City | 14 | -7 | 13 |
| 17 | West Ham United | 14 | -14 | 12 |
| 18 | Sunderland | 14 | -10 | 11 |
| 19 | Hull City | 14 | -18 | 11 |
| 20 | Swansea City | 14 | -15 | 9 |

CHELSEA (34 points)
Were they winners or losers this weekend?
Winners, and emphatically so. In the biggest test of their title credentials and Antonio Conte's tenure so far, Chelsea went to Manchester City, came from behind to win 3-1 and send out a powerful message to the rest of the Premier League.

Why should the other sides be fearful?
Chelsea, more than any of the other contenders, have winning momentum – they have now won eight on the spin in the league – a settled team line-up and a devastatingly effective formation and style of playing.

Since Conte switched his team to a 3-4-3 formation, they have scored 22 goals and conceded just twice. Also, in contrast to those around them – except Liverpool – they don't have the distraction of European games.

Diego Costa scored as Chelsea came from behind to win 3-1 at Manchester City on Saturday

What problems are hampering them?
There certainly aren't any major problems that leap out. One issue Conte may encounter is keeping the remainder of his squad happy given he has struck to the same team line-up for a number of games in succession.

When Cesc Fabregas came in for Nemanja Matic on Saturday, it was the first team change made during their winning run. Those on the sidelines need to be ready to step in when required.

How's the manager been getting on?
Having started with four consecutive victories, Chelsea were handed a reality check when they lost to Liverpool and Arsenal in quick succession.

Conte astutely realised that the 4-2-3-1 formation they used wasn't getting the best out of his players and he switched to 3-4-3.

Since then, Chelsea have been unstoppable and the Italian is looking like a genius.

Chelsea have been unstoppable and Italian manager Antonio Conte is looking like a genius

What's their festive fixture list like?
Very favourable to be honest. The remainder of December sees the Blues play West Brom, Sunderland, Crystal Palace, Bournemouth and Stoke City, so they have the perfect opportunity to extend their lead at the top.

That will be the aim, with games against Tottenham and Liverpool in January, but the Blues will fear nobody on current form.

Could they buy anyone in January to strengthen?
It would be surprising if Chelsea rush into the transfer market in January. They're in great form with a settled team and plenty of reinforcement standing by to come in when required.

ARSENAL (31 points)
Were they winners or losers this weekend?
The Gunners were easy and emphatic 5-1 winners at West Ham, a result that pushed them up to second.

Alexis Sanchez was the star of the show, scoring a hat-trick, with Mesut Ozil and Alex Oxlade-Chamberlain also finding the net in a dominant display.

Why should the other sides be fearful?
Saturday's rout at the London Stadium showed Arsenal at their free-flowing best, but what has been most impressive about the Gunners this season has been their resilience and way of getting results when once they may have crumbled.

They have only lost twice this season – to Liverpool on the opening day and to Southampton in the EFL Cup last week.

They have also safely negotiated November, which is traditionally a bad month for them.

Alexis Sanchez was the star of the show, scoring a hat-trick against West Ham United

What problems are hampering them?
It's been pretty much plain sailing for Arsenal this season, with some of the best football they've produced in a long time.

Saturday once again proved how influential Sanchez is and the fact they are the second-top scorers in the division shows that enough chances are being converted.

There's been the odd frustrating draw, but they're less frequent.

How's the manager been getting on?
Arsene Wenger has managed to avoid the grumblings of discontent that traditionally surface around this time of year and those who demanded his departure last season have been silenced by consistent good results.

Wenger has just passed the 20-year mark at the club and will feel that things are finally starting to come together again for his team. But, then again, we've heard that many times before.

Arsene Wenger has managed to avoid the grumblings of discontent that traditionally surface

What's their festive fixture list like?
A mixed bag, with games against Stoke, Everton and West Brom where they would expect to take maximum points before the New Year.

But the game circled in red on the calendar is their visit to Manchester City on December 18 – a proper test of their title credentials.

2017 starts with matches against Crystal Palace, Bournemouth, Swansea, Burnley and Watford so it would be inexcusable if they're not in touch after that.

Could they buy anyone in January to strengthen?
It's unlikely Wenger will feel the temptation to dive into the transfer market in January, barring a major injury crisis.

They certainly don't lack for attacking talent and will only lose Egypt's Mohamed Elneny to the Africa Cup of Nations.

One name linked with them is Julian Draxler, who seems determined to leave Wolfsburg in January.

LIVERPOOL (30 points) 
Were they winners or losers this weekend?
In the weekend's most dramatic game, Liverpool threw away a 3-1 lead to lose 4-3 at Bournemouth.

The fact that their on-loan defender Nathan Ake scored the stoppage time winner only made the weekend sweeter for Chelsea fans.

The collapse again exposed Liverpool's weaknesses at the back.

Why should the other sides be fearful?
When attacking, Liverpool are among the very best in the Premier League.

With Philippe Coutinho, Roberto Firmino and Sadio Mane given licence to exchange positions and rampage across the forward line, they present a real headache for opposition defences and it really is little wonder they're the top goalscorers in the Premier League.

Further back, Jordan Henderson, the Premier League's pass master, is in the form of his life.

Lucas Leiva & Jordan Henderson were dejected as Liverpool threw away a 3-1 lead on Sunday

What problems are hampering them?
As Sunday once again showed, it's Liverpool's defensive frailties that will cost them the Premier League title.

It all starts with goalkeeper Loris Karius, who transmits uncertainty to his back line, while Dejan Lovren often looks unsteady.

Any side that puts their back line under pressure is almost certain to get rewards.

How's the manager been getting on?
Heaven and hell for Jurgen Klopp, who is delighted at the way his forward line is purring but exasperated at the way his defence lets the side down. Needs to shore up his back four and find a greater balance if they are to stay the course.

German boss Jurgen Klopp must be exasperated at the way his defence lets the side down

What's their festive fixture list like?
Although Liverpool will expect to overcome West Ham, Middlesbrough and Stoke over the festive period, it's matches against Everton and Manchester City that will test them.

They also have a very tight turnaround between the City match on New Year's Eve and their visit to Sunderland on January 2, which hasn't pleased the manager.

Could they buy anyone in January to strengthen?
They could, should and surely will seek defensive reinforcement in January. A new goalkeeper and centre-half would be a good start.

Although Sadio Mane is heading to the Africa Cup of Nations, don't expect to see a rush to strengthen up front.

MANCHESTER CITY (30 points)
Were they winners or losers this weekend?
A weekend to forget for City as they not only surrendered a lead to lose ground to Chelsea, but they lost all discipline in doing so.

The mass brawl in stoppage time could lead to talisman Sergio Aguero serving a long suspension and Pep Guardiola will be bitterly disappointed at the way his side crumbled in the second-half having worked hard for the lead.

Why should the other sides be fearful?
When this City side click, they are more than a match for the best sides. Just ask Barcelona, who found themselves well beaten at the Etihad Stadium in the Champions League.

While the kind of mouth-watering football Pep produced at Barcelona is still some way off, there are certain traits in the intensity of their attacking play and the desire to win the ball back when they lose it.

The mass brawl in stoppage time could lead to City's Sergio Aguero serving a long ban

What problems are hampering them?
Saturday once again highlighted weaknesses in defence that will cost City if not addressed.

For one thing, Guardiola hasn't settled on his back line at all, making changes in defence for every single Premier League fixture this season.

So it's little wonder that Nicolas Otamendi and John Stones often look jittery, especially when asked to play the ball out from the back.

Aleksandar Kolarov and Pablo Zabaleta, both 31, are fast running out of time, too.

How's the manager been getting on?
The sheer amount of tinkering to his team – both in team selection and while the match is in progress – that Guardiola does suggests he is still no closer to knowing what works best for City.

He has made 46 team changes in the Premier League alone, more than any other manager.

The early season blitz of 10 straight wins seems a long while ago and Guardiola has been confronted with the headaches that every boss in the unforgiving Premier League faces.

Pep Guardiola has made 46 team changes in the Premier League, more than any other boss

What's their festive fixture list like?
More challenging that some of the teams around the, with a home game against Arsenal and a trip to Liverpool either side of Christmas.

Lose those, and City will find themselves behind the pace, even if they record maximum points in their other games against Leicester, Watford, Hull City and Burnley.

Could they buy anyone in January to strengthen?
City invested a great deal in the summer but certain results and performances have shown that perhaps more is required.

Guardiola won't panic buy but you imagine an extra defender or two will be on the shopping list come January.

TOTTENHAM HOTSPUR (27 points)
Were they winners or losers this weekend?
Tottenham bounced back from the twin disappointments of exiting the Champions League and losing at Chelsea with a 5-0 win over struggling Swansea.

In one of their most free-flowing performances of the season, Harry Kane and Christian Eriksen both scored twice, with Son Heung-min also on target.

Why should the other sides be fearful?
They haven't shown it too often this season but when everything clicks for Spurs, as it did on Saturday, they are a formidable attacking threat.

With the likes of Eriksen returning to form and Kane's contract situation settled, there is no reason why Mauricio Pochettino's side can't sustain the pressure at the top of the table.

With Harry Kane's (left) contract situation settled, Tottenham can put pressure on the top

What problems are hampering them?
Problem is, those swaggering displays have been few and far between in the early part of the season.

Spurs were absolutely brilliant when they comfortably beat Manchester City back in October, inflicting a real reality check for Guardiola, but we just haven't seen displays like that often enough.

The problem has been particularly acute in the Champions League, where playing at Wembley seems to have affected them.

How's the manager been getting on?
So much progress was made under Pochettino last season, with his young side producing some incredibly attractive football and getting results.

But they seem to have regressed this season, not helped by Kane's injury lay-off and Eriksen looking out of sorts.

Their decisive win over City showed that their enormous potential remains, but other results against the title challengers just haven't been forthcoming.

So much progress was made under Spurs' Argentine manager Mauricio Pochettino last term

What's their festive fixture list like?
Not too bad, with next weekend's trip to Manchester United followed by winnable home games against Hull and Burnley.

Spurs are at Southampton just after Christmas and then face Watford on New Year's Day. But it's their game with Chelsea on January 4 that really whets the appetite.

Could they buy anyone in January to strengthen?
Not looking too likely, as the policy seems to be to tie down the star assets they already have and keep the squad settled.

Pochettino has great faith in the team, which he moulded, and won't seek to unsettle it by bringing in new arrivals.

MANCHESTER UNITED (21 points)
Were they winners or losers this weekend?
Another weekend of frustration for United, who were so close to a crucial win at Everton when the blundering Marouane Fellaini conceded a late penalty.

Zlatan Ibrahimovic had continued his recent return to form earlier in the 1-1 draw at Goodison but it was undoubtedly two points dropped as United's disappointing start continued.

The fact they are 13 points off the lead is pretty startling.

Why should the other sides be fearful?
Because despite the continuous frustrations and bad luck (as Jose Mourinho would have you believe), United have been showing a definite, if steady, improvement over the past month or two.

When everything works, they are as good an attacking unit as anyone else in the Premier League and the feeling persists that someone soon is going to feel the full force.

There have been glimpses of excellent – the league game against Leicester and Cup matches against Fenerbahce, Feyenoord and West Ham – but the consistency isn't there.

Zlatan Ibrahimovic (centre) continued his return to form earlier in the 1-1 draw with Everton

What problems are hampering them?
Creating chances isn't an issue. Taking them has been. In some of United's drawn league games, especially at Old Trafford, they have been racking up 25-30 chances but not taken them.

So Mourinho does have a partial point when he talks about misfortune, but the crux of the issue is in United's finishing.

How's the manager been getting on?
It's not been the start Mourinho was hoping for and, for the most part, it's been a continuation of the frustrations felt during those bitter final days at Chelsea last year.

But slowly, United are getting there. Unfortunately, they've probably left their improvements too late to challenge properly for the title this season.

It's not been the start Jose Mourinho was hoping for but Manchester United are getting there

What's their festive fixture list like?
Hope can be found in United's festive schedule, which should be favourable to them.

After a home game against Spurs next weekend, they play Crystal Palace, West Brom, Sunderland, Middlesbrough and West Ham.

Maximum points are certainly possible and really that's the only way they'll still be in contention by the time Liverpool come to Old Trafford on January 15.

Could they buy anyone in January to strengthen?
Having flaunted their fabulous wealth in the summer to bring in the likes of world-record Paul Pogba, Henrikh Mkhitaryan and Eric Bailly, United fans should expect a quiet January.

Mourinho has plenty of options at his disposal and there really isn't any need to splurge any more.

Bailly will go to the AFCON with the Ivory Coast, but there should be enough cover.

mailonline