KANU, UTAKA SEEK 2ND GLORY WITH POMPEY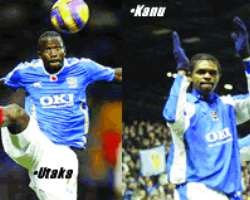 Utaka and Kanu
This year's English FA Cup final slated for Wembley Stadium today evokes memories of the epic David and Goliath showdown. The giant, Chelsea, stands on one side, while minnow, Portsmouth, stands on the opposite end.
Last Sunday, Chelsea lifted the 2009/10 league season shield. Before then, Portsmouth was relegated after placing 20th on the table, bringing to a sad end its over five seasons of unbroken stay in the top-flight.
Now, the stage is set. Both stares each other in the face, anxious to claim victory to add to their profiles.
Chelsea has won the FA Cup five times since the English flagship club competition kicked off in 1871/72 season. It has also been runner-up on four occasions. Victory over Pompey will bring its FA Cup glory to six, to end the season with a double.
Portsmouth, on its part, captured the FA Cup first time in 1939 and kept it in its shelf till 1946 as the World War II prevented any form of competition. Against the run of play, it lifted the trophy again in 2008, beating Cardiff City 1-0. Nwankwo Kanu's goal killed the game for the South coast side, as the player emerged Man-of-the-Match in the final. And now, he is standing once again on the threshold of history.
Victory for Chelsea will help the club end the season on a high. What an avalanche of honour that will be for Carlos Ancelotti, the Italian, who has returned the club on the winning path. His squad dismissed Stoke City 2-0 in the quarterfinals and Aston Villa 3-0 in the semis to set the stage for today's clash. Portsmouth, despite all the troubles in its house, dumped out Birmingham 2-0 and Tottenham 2-0 in similar order to face Chelsea.
Given the amazing form of Chelsea, nothing short of a routing is expected. Didier Drogba, Florent Malouda and Frank Lampard are loaded with fire in their bellies. They would be unleashing real terror on the Pompey.
However, Avant Grant and his squad are not strangers to the big stage. Kanu, a veteran of FA Cup, might be providing the giant killer venom that will send Chelsea licking its wound in bitter defeat.
Ghana's Kelvin Prince Boateng and Frenchman Frederic Piquionne may be handy to halt Chelsea's party and send the Pompey fans into wide celebration when the chips are down.