I have not broken any Nigerian law, says Yerima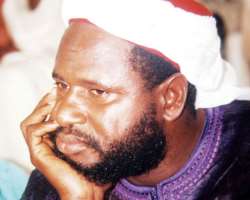 Sani Yerima, the former governor and senator representing Zamfara state at the senate on Monday said his recent marriage to an Egyptian girl was not a violation of any Nigerian law.
Mr. Yerima, who was answering questions from State House correspondents in Abuja, said the marriage was contracted legally and in conformity with Islamic injunctions.
He however dismissed the allegation that his Egyptian wife was a 13-year old girl, ``I don't know where and how they got the age. That 13 is a very mysterious figure." He also dismissed the allegation that the negative publications against him were being financed by Zamfara State Government.
He, however, stated that his political enemies were behind the negative media reports.
"People can attack you as a politician and can say anything. People see this as a problem, but I don't see this as a problem," he added.
Mr. Yerima, who quoted Section 29 of the Nigerian Constitution to justify his wedding with the Egyptian, said "The section says that for a citizen to acquire citizenship or abandon his citizenship he must be 18 years or above or any woman who is married shall be deemed to be of full age".
According to him, Section 38 of the Nigerian Constitution says every Nigerian has absolute and total freedom of religion without hindrance.
He said that every Muslim was supposed to follow the teaching and practice of Prophet Mohammed.
"Our beloved Prophet Mohammed married one of his beloved wives, Aishat, at the age of nine years. " As far as I'm concerned, I'm a law-abiding citizen of Nigeria. First I observe my religious rights and obligations and also observe as much as I can, the laws of Nigeria.
"So, I have not broken any Nigerian law," he said.