Fans Write To Genevieve Nnaji: 'GENEVIEVE NNAJI – THE WOMAN IN THE BOOK'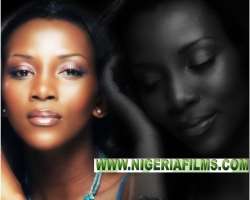 Fans sent in this email for Genevieve Nnaji who celebrated her birthday on the 3rd of May. It read:
HER DEFINITION:
Some people dream dreams but they never come to pass, she dreamt hers and they keep coming to reality that shows the uniqueness in her.
The realities that some people perform are dreams of other people, she dreamt hers and she is living hers that shows her ORIGINALITY.
Original in every aspect that impact the lives of so many people is what makes her CLASSY.
Who is the woman in the book?
She is the woman who lives in the papers, in the media houses, on the street and above all the hearts of people.
She is the girl who believes in the "me" word, and independent woman full of life and who believes in the strength that dwells in her.
She is the fabulous Woman that despite all odds and all the ladders arranged for her destination she could say "yet I climbed and arrived"
She is the woman whose dreams are seeing by other people, the girl that represent the future generation of GREAT WOMEN.
She is the woman that people look up too and call her ROLE MODEL.
She is the woman who welcomes people into her life and gives them the warm smile that sweetens their heart.
She is the woman who lives her life as an example to others.
She is a woman who represents a star.
She is an AFRICAN woman filled with talents, intelligence and endurance.
She is the BEAUTY that keeps people gazing.
She is the WOMAN of the people
She is a GOLD standard of Beauty
She is the PRIDE of people who look up to her.
She is GENEVIEVE NNAJI, the great woman with great sense of humor. She is who she is, what she wants to represent and what she wants to do.
She is CLASSY UNIQUE GENEVIEVE.
She is a WOMAN to look up TO.
EXPECTATIONS:
It's been more than a year since we all started our communication with you, and throughout this period you have proven to us that you are humble and your fans mean a lot to you ,,We also want you to know that you mean a lot us,
Hmm, something we have come to discover is that, you have a great personality, you are interesting, true to yourself and when people get close to you, they want to know you more. You are a star Genny and over the years you have proven that you are blessed to do what you are doing and we pray that may this blessings forever be with you …
Your birthday deserves to be a national holiday,
Because you are a special treasure,
for all that you've done.
31 years on earth, wow. How time flies, but we are more than grateful to God for sparing your life and bringing you this far, we believe He will take you further ….
We wish you many more years ahead, years filled with Love, Joy, Happiness, Favor, Grace, Open doors, Miracles etc….
May you continue to grow from grace to greater heights, may your heart desires be accomplished ……
May you never lack but be blessed with abundance by God. May you always have testimony to tell
May the blessed call you blessed…….
HAPPY HAPPY BIRTHDAY OUR DEAREST GENNY
WE DON'T HAVE THE PERFECT WORDS BUT WE HAVE THE PERFECT SMILE TO BRIGHTEN YOUR DAY BECAUSE WE ARE CELEBRATING WITH YOU…
WE LOVE YOU