WILLIAMS SISTERS RETURN TO TOP OF RANKINGS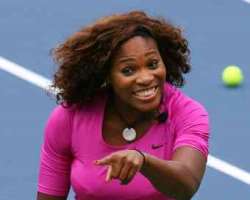 Serena
Serena and Venus Williams will return to the top two spots on the women's tennis tour rankings for the first time since 2003.
Venus Williams will climb two places to No. 2 after she made the third round at the Madrid Masters this week, the WTA Tour said on its website. The five-time Wimbledon champion will replace Danish teenager Caroline Wozniacki, who was ousted in the second round of the Madrid clay court event. Australian Open champion Serena Williams, 28, will remain at No. 1 when the rankings are published on May 17.
'In the rankings, you keep going until you get to that No. 1 spot,' Venus Williams said in the statement. 'Of course, Serena and I being No. 1 and No. 2 in the world is what we dreamed of growing up. But we each dreamed of being No. 1, neither of us dreamed of No. 2. I congratulate Serena on that ranking but I'm aiming to get there myself.'
Venus, 29, returns to the No. 2 spot for the first time since May 11, 2003. After making the quarterfinals of the Australian Open, the American went on to win titles in Dubai and Acapulco and was a losing finalist in Miami.
The sisters will occupy the top two places in the tennis rankings for a 46th week. They first took command of those places from June 10 to July 7, 2002, when Venus was top-ranked and Serena No. 2. Serena was last No. 1 with her elder sister at No. 2 in May 2003.
The move in the rankings means the sisters would not face each other at the French Open, the clay court Grand Slam that starts May 23 in Paris, until the final. The slower surface does not suit their power game, with Serena winning her lone French Open title in 2002, when she beat her sister in the final.