I WILL COACH MADRID – MOURINHO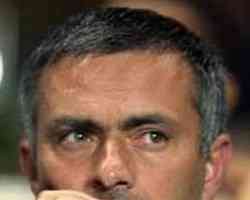 Jose Mourinho
Jose Mourinho is making Inter sweat over his future, admitting he 'will coach Real Madrid sooner or later.'
Mourinho to Real Madrid has been a well documented story in the world's media over the last year. And the 'Special One' has spoken about his next move for life after Inter, fuelling growing speculation that he could join the Spanish giants if he wins the Champions League next week.
'What they write about me having one foot in Madrid and one in Milan is false,' Mourinho told the latest edition of Panorama magazine.
'Sooner or later I will coach Real Madrid. I coached a big team in England, I am coaching a big team in Italy, and then I will coach a big team in Spain.
'I have won everything in three countries and I don't need anything. But, what makes me laugh is when some presidents compare me to their own coaches who haven't won anything.'
Well known for his controversial views about Italy, the coach was on hand to criticise the country once again, just weeks after saying he didn't like Italian football.
'The hypocrisy of Calcio… People come to me and pat me on the back and say 'you're a great coach'. But as soon as I turn my back they attack me. I don't like all this,' he concluded.