Young married couple found dead at home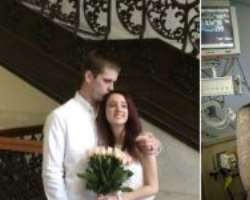 Police are investigating Courtney Hulett's, 20, and Cameron Hulett's, 28, mysterious deaths; The Dundee, Michigan, couple was found dead late Tuesday on the floor right by their kitchen table where a Taco Bell meal was left completely untouched, Monroe News reports.
A neighbor who stopped by their apartment around 9 p.m. believed Courtney and Cameron, who were ultimately found on their side and facedown respectively, to be sleeping. When she checked in again three hours later and saw they hadn't moved at all, she called police. "It's really a puzzle," Dundee Village Manager Dave Uhl toldMonroe News. "There is no indication as to what happened. It's a mystery."
Authorities believe drugs are a probable cause (drug paraphernalia was found inside the apartment and a pound of marijuana was found on the table, seemingly being divided up for sale), but have not yet been able to officially confirm the couple's cause of death. There are no signs of trauma or a break-in that would've indicated foul play.
According to FOX 2 , the state's Child Protective Services recently removed two young children from the same apartment. A Facebook post from the Dundee Police Department confirms the children were the Huletts' and they were with CPS at the time of their parents' deaths. FOX 2 notes Cameron has a criminal record dating back 10 years.
Autopsy results and toxicology reports are pending.