EFCC CAN ARREST IBORI — COURT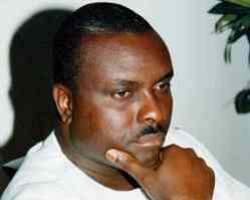 Embattled former Governor of Delta State, Chief James Ibori
A Federal High Court in Asaba on Monday struck out former Delta State Governor James Ibori's application asking the court to restrain the Economic and Financial Crime Commission from arresting him before hearing the substantive suit on May 10.
The News Agency of Nigeria reports that Ibori had on April 28 through his lawyer, Mr. Joseph Daudu (SAN), filed the application for enforcement of his fundamental human rights over alleged fraud involving the shares of some companies.
The suit was filed after Justice Ibrahim Buba refused to grant Ibori's oral application to restrain the EFCC from arresting him.
But at the hearing of the main application on Monday, Buba struck out the matter after the lawyers to the parties said they would not object to its being struck out.
Ibori had joined the Attorney-General of the Federation, the EFCC, the Inspector General of Police and the Director, State Security Service as co-defendants to the suit.
At Monday's hearing, the court also adjourned ruling in the main case till May 31 after listening to the lawyer to AGF, I-G and SSS, Mr. Abubakar Mahmoud (SAN).
Lawyer to the EFCC, Mr. Chile Okoroma and Daudu (Ibori) also advanced their arguments at the hearing.
Buba had at the last adjourned date ordered that if the lawyer to Ibori wanted his application to restrain defendants be taken, he should apply in writing instead of an oral application.
When the case came up on Monday, Daudu argued that the EFCC and its agent were infringing on the fundamental human rights of his client.
Daudu said that EFCC had failed to state in its invitation of March 22, which was delivered on April 17 the reason for the interview.
He therefore, urged the court to enforce his client's fundamental human rights and to step in and save the applicant from prolonged embarrassment.
But the lawyer to defendants argued that the court had no jurisdiction to entertain the matter and that the application should be struck out.
They argued that the court was not competent to handle the case before it and urged it not to grant the applicant's request.
In his submission, Mahmoud, argued that the nation's criminal justice system was based on separation of powers.
He said that the powers of adjudication and investigation were clearly spelt out in the 1999 Constitution.