Stoke late draw at Manchester United, as Mourinho's men rue missed chances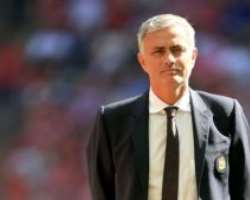 Manchester United will rue their inability to kill off Stoke City on a day when Anthony Martial's strike was their solitary yield from a glut of chances created.
The Frenchman appeared to have secured an invaluable win after a double José Mourinho substitution that led directly to his opener.
Sixty-seven minutes had gone when Juan Mata and Jesse Lingard came off for Wayne Rooney and Martial. Two more were played before the No11 gave United the lead and this initiated a flurry of opportunities. But they failed to score and up popped Joe Allen for the equaliser which came after David de Gea fluffed Glen Johnson's shot. Jonathan Walters turned the ball on to the bar and the Welshman made no mistake.
Mourinho acted instantly, throwing on Memphis Depay for Ander Herrera and United went close in a frantic finish that had Pogba thumping the bar with an effort that came off his shoulder but Stoke clung on.
Mourinho claimed that Mark Hughes's team should have suffered a hiding. "We should be not just with the three points but a fat result. It should have been 3-0 or 4-0 at half-time, six or seven at the end. But the result is 1-1. Very undeserved but a much better performance than against Leicester," he said of the 4-1 win last week.
Asked about the profligacy, the Portuguese said: "I never criticise my players for missing chances. The goalkeeper is the man of the match and deservedly. We had some open chances where we could [do] better but I am never critical of my players. I can be critical of the no quality of the performance, the naive mistakes sometimes but not in front of the goal."
He would admit vexation at the result. "When the result should be 5-0 or 6-0 and it is 1-0 then happiness disappears and the frustration with the result comes. I think this was our best performance in the football we played – the creation, chances, the consistency because we did that for 90 minutes. We start in the first minute with a big chance and we finish in the last minute with another one and in between we had four, five, six, seven.
"We had complete control of the game, a great attitude after the 1-0. We kept creating chances and then by magic they crossed the midfield line and scored a goal which is very unfair for us."
Within seconds of kick-off Zlatan Ibrahimovic was the first to spurn a simple chance. Pogba dribbled, put the Swede through, Lee Grant's goal gaped and all the No9 required was the kind of finish that has built his reputation. Instead he allowed the save and from the corner Stoke cleared.
Joe Allen pokes the ball past Antonio Valencia for Stoke's equaliser.
Facebook Twitter Pinterest
Joe Allen pokes the ball past Antonio Valencia for Stoke's equaliser. Photograph: Carl Recine/Reuters
Later, a slick Potters sequence splayed United but Geoff Cameron was unable to score. Xherdan Shaqiri's back-heel released Allen who pinged the ball towards Wilfried Bony. It came to Cameron but the shot was regulation for De Gea.
Advertisement
Now United did better via a four-man play. Antonio Valencia passed to Mata who recycled to Ibrahimovic and his flick found Lingard. The winger delivered to Pogba but he missed the target.
Mata was again playing at No10 in place of Rooney and showing why. From what seemed a blind alley the Spaniard created an opening and came close to chipping Grant. The keeper tipped the ball over and when Daley Blind's subsequent corner dropped on Pogba's head, he should have scored.
It was the contest in microcosm for United. They dominated, they created, they could not capitalise. Two further examples involved Ibrahimovic and Lingard. Chance A came from a run and cross from the Swede from which Lingard forced a Grant save. Chance B was a reversal in which Lingard ran along the right and put the ball in for Ibrahimovic, but he could not score.
More of the same followed in the second half. Ibrahimovic cut through the middle but the move broke down. Lingard skated along his flank and crossed and Pogba's effort went for a corner.
Manchester United 1-1 Stoke City: Premier League – as it happened
Minute-by-minute report: Paul Pogba missed a host of chances as Manchester United laboured to a 1-1 draw, with Lee Grant putting in a fabulous performance in Stoke City's goal
Read more
The endeavour had Mourinho clapping but he now saw his side slashed open by Stoke. The ball went Shaqiri-Marko Arnautovic-Allen in a triangle that left the Welshman behind United's lines with only De Gea to beat. The shot was yet another simple one to collect.
Herrera was fortunate to be only booked for a studs-high tackle above Allen's knee. The Stoke player said: "Sometimes they get sent, off sometimes they don't."
After a stodgy phase of play Mourinho made his move and on came Rooney and Martial. It worked instantly. Martial zipped along his corridor and turned the ball into Rooney. He dawdled and while this allowed Cameron to dispossess him the ball was stabbed back to Martial who banged his shot past Grant for the opener, which was also his first goal of the season.
This prompted United's late onslaught as Rooney just missed a cross, Blind had an attempt blocked and Ibrahimovic a shot saved. Now, though, came a Stoke fightback that left Hughes contented.
"We showed we are a good side at this level," he said, though they are still one off the bottom.