DON'T BE DISTRACTED BY PDP, AC TELLS JONATHAN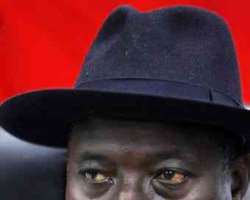 Dr. Goodluck Jonathan
The Action Congress on Sunday urged President Goodluck Jonathan not to allow himself to be distracted by his party, Peoples Democtratic Party.
The party, in a statement issued in Lagos by its National Publicity Secretary, Alhaji Lai Mohammed, said the President should work to put Nigeria on the path of greatness.
It said that Jonathan should face the challenges of restoring hope to long-suffering Nigerians.
The party noted that United States President Barack Obama, in making his health care reform a reality, had already written his name in the history books, just a little over a year into his four-year administration.
The AC said Jonathan must be willing to do what is hard, what is necessary and what is right, irrespective of whose ox is gored, in the interest of Nigeria .
It said, 'As we said earlier, President Jonathan must have a roadmap and set realistic objectives for his administration, in addition to introducing benchmarks as part of a monitoring mechanism for his ministers. While he is free to set his own priorities, key areas where he can score quick wins are electoral reform, power and the fight against corruption.
'A successful electoral reform will pave the way for Nigerians to elect their leaders on the basis of their (leaders) ability, rather than on the strength of the dirty money they can throw around, and strengthen our democracy.
'He must also ensure that the missed target of 6,000 mega watts is reached as quickly as possible, as the take-off point in ensuring that Nigerians can enjoy uninterrupted power supply, which will boost industrial development and create millions of jobs.
'And the fight against corruption must be total and unambiguous. The quick wins that President Jonathan can score here include unravelling the Halliburton, Siemens and Wilbros bribery cases. You don't need eternity to do this. Then, of course, he must ensure non-interference in the affairs of the anti-corruption bodies.'
The party also said he should sustain the late President Umaru Yar'Adua's programmes in the Niger Delta and implement the Uwais panel report on electoral reform.
It advised the President not to squander the goodwill of Nigerians. According to the party, Jonathan should remember that he is the President of all of Nigeria , 'not of the PDP, the ubiquitous Governors' Forum or any other group.'