Heineken® Launches New UEFA Champions League Campaign, Starring Jose Mourinho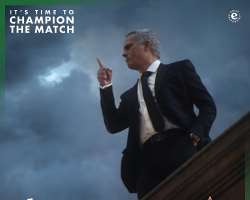 Heineken® has unveiled a new UEFA Champions League TV commercial, called 'Prep Talk'. The film features two time UEFA Champions League winning manager, Jose Mourinho, and was shot by award-winning director, Guy Ritchie.
The commercial is part of Heineken's 'Champion the Match' campaign and launches on TV and digital channels to coincide with the new 2016/17 season. The film sees Mourinho deliver a passionate and motivational address to fans across the globe. He challenges them to prepare for match night, no matter where they are in the world and no matter what time zone they are in.
The 'Prep Talk':

Gianluca Di Tondo, Senior Director Global Heineken® Brand at HEINEKEN, said; "Preparing for UEFA Champions League match night makes the experience even better. With a little bit of thought and effort, fans and their friends will have a greater experience. But sometimes a little inspiration is needed, and who better to motivate them to 'Champion the Match' than Jose Mourinho."
Jose Mourinho, said; "Heineken has been on the touchline with me through my whole UEFA Champions League career. I like what the brand stands for especially its stance on responsible drinking. Filming the Prep Talk was a new, and very enjoyable, experience. Guy Ritchie is a great coach, and definitely got the best out of me."
The film, created by Publicis Italia, marks the eleventh year of Heineken®'s partnership with the UEFA Champions League. The campaign includes global and regional variations of the film to suit different fan viewing behaviour around the world. This includes bespoke break and match bumpers, as well as promo tags.
The campaign will launch in over 90 countries and run throughout the 2016/17 season.
About Heineken®
In 2014, Heineken launched a brand new platform – CITIES. This a platform designed to foster the relationship between the brand and the cities it operates in, bringing it closer to consumers and their cities.
The Heineken® brand is available across 192 countries across the globe and is the world's most international premium beer brand.
To follow Heineken® on Twitter visit http://www.twitter.com/heineken and to become a fan on Facebook go to http://www.facebook.com/heineken . To view videos, subscribe to our YouTube channel at http://www.youtube.com/heineken .
Enjoy Heineken Responsibly
Heineken continues to integrate its responsible consumption program into all activities. 'Enjoy Heineken® Responsibly (EHR),' our global brand-led approach to promote responsible consumption, first launched in 2004. Whilst the Enjoy Heineken® responsibly is the flagship of our commitments, we are of course promoting responsible consumption throughout our brand portfolio. As an industry leader, we believe we should lead by example, playing an active role in promoting responsible and moderate consumption of alcohol.
About Red Media Africa
Red Media Africa ( http://www.redmediaafrica.com ) is the PR & Empowerment Marketing division under the parent brand, RED.
It focuses on using inspiration, empowerment and action to help brands and organisations connect with their audiences, enhance their bottom-lines and lead in their industries.
It has 6 major practice areas: Corporate Practice, Technology Practice, SME Practice, Governance Practice, Faith Practice and the International Practice - with work for brands across Nigeria, Ghana, Kenya and South Africa.
RED owns the continent's largest portfolio of youth media brands. Its Content Division holds brands across TV, radio, online and events including Y! Magazine,YNaija.com, Rubbin' Minds, #YTech100 and the The RED Summit. It also anchors a development firm, The Future Project, which projects include Africa's leading youth platform, The Future Awards Africa, HowCanIGetInvolved.com and Aiki.ng, which is run in conjunction with Microsoft. ‎