WIGAN HOLDS KEY TO CHELSEA'S EPL TROPHY DREAM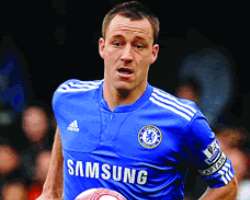 Terry
The much-awaited end of the 2009/10 English Premier League (EPL) season has come today, as league leader, Chelsea, welcomes Wigan Athletic at the Stamford Bridge.
Chelsea needs outright victory in today's match to realise its dream of lifting this year's league shield. Anything short of that may see its effort all through the season go up in flames, as Manchester United is on its heels in the race for the trophy.
Man United, on its part, also needs victory if ever its hope of making history by winning the league shield for a record four times in a row will come to fruition. The Red Devils will welcome Stoke City at the Old Trafford this afternoon.
Both Chelsea and Manchester United have difficult huddles to cross because their opponents in today's games are difficult sides to meet.
It would be remembered that Wigan was the first team in the EPL to stop Chelsea's unbeaten run this season, and if that record is anything to go by, today's encounter at Stamford Bridge will definitely be difficult for the Blues. And Stoke can be stubborn if it chooses to.
No doubt, it is not going to be easy ride for Chelsea and Man. U in these final games of the season.