GET READY FOR SEX AND THE CITY 2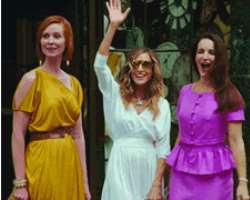 THE CAST OF SEX AND THE CITY 2
Sex and the City (Part 2), a sequel to the popular movie of the same title, is set to hit the big screen in Nigeria. Produced by Warners' New Line unit, the second big-screen adaptation of DStv's Mnet onetime 'SATC' TV series, which stars Carrie, Samantha, Charlotte and Miranda, takes another bite out of the Big Apple in the sequel to the 2008 blockbuster.
Returning in their starring roles, as the four great friends are Sarah Jessica Parker, Kim Cattrall, Kristin Davis and Cynthia Nixon. Of course, where would these women be without their men? Also back for the much-anticipated sequel are Chris Noth as Mr. Big, David Eigenberg as Steve, Evan Handler as Harry, Jason Lewis as Smith, Mario Cantone as Anthony and Willie Garson as Stanford Blatch.
According to Trushna Buddhev, GM, Pan African Distribution, distributors of the movie in West and East Africa, Sex and the City 2 will launch in Nigeria and worldwide on Friday, May 28, 2010, and 'we expect it to do outstandingly in the box office.'
Corroborating him, Joy Ilibeno, West Africa Manager, Pan Africa Distribution, says: 'Pan Africa Film Distribution has teamed up with several international companies and associates to widely promote this movie, a line up of exciting events and promotions in Lagos will be revealed soon'
A brand new trailer for the Sex and the City 2 shows that the girls head to Abu Dhabi in the show. It also reveals that Carrie's ex Aidan is back, and he does manage to raise the interest level in the show. Meanwhile, the four girls head to Abu Dhabi, to catch up Samantha's ex Smith, where he is filming his new movie, but their lives get all the more entangled when Carrie gets attracted to her ex Aidan too.
As usual, there is complete chaos in the foursome's lives. On one hand Samantha is trying very hard to hang on to her youth, whereas Kristin Davis's Charlotte York doesn't have a clue about what to do about her children. And on the other hand Cynthia Nixon's Miranda Hobbes wants the opposite, as she wants to quit her work, and be a stay-at-home mother.
Sarah Jessica Parker says about the Abu Dhabi trip: 'This is probably the most time the characters have ever spent together.
Simultaneously, it was the first time that the four actors left the country, lived together, worked together for almost eight weeks solid - and when I say lived together, I mean breakfast, lunch and dinner together every single night.'