Chelsea plotting ambitious move for Juventus defender Giorgio Chiellini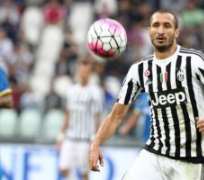 Chelsea are plotting an ambitious move for Juventus defender Giorgio Chiellini as they look to add a centre-back before the transfer window closes.
The signing of a central defender has been a priority for the Blues for much of the summer but they have came up short in their search so far, particularly in their pursuit of Napoli's Kalidou Koulibaly, who is now set to stay at the Stadio San Paolo.
Chelsea's attentions have now turned to Turin and Chiellini, with the Londoners willing to make a €30 million offer for the Italy international, according to The Sun.
The 32-year-old is no stranger to Chelsea boss Antonio Conte, who has coached Chiellini both at club level during his time at the Juventus Stadium and at international level with Italy and although he wouldn't specify his targets, the tactician acknowledged that a centre-back must be signed.
"We only have four [central] defenders in our squad as you can see," Conte told reporters after his side's 2-1 win at Watford on Saturday afternoon. "When you account for injuries and suspensions, it can become hard.
[fncvideo id=389623]
"You don't want to be so short in such a position so we absolutely need reinforcements and I have said this to the club hierarchy."
Chiellini isn't the only Juventus player Chelsea have been linked with this weekend, with the London club also believed to be considering a €28m move for Mario Mandzukic.