A review of Kunle Afolayan's award-winning movie, Figurine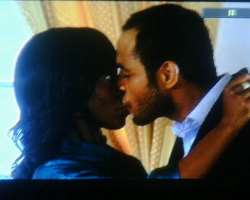 kunle Afolayan's latest award-winning film, Figurine opens with the myth of the goddess Araromire in the early 20th century Nigeria. She commands her priest to form a statue in her likeness from the bark of a cursed tree and, to all who touch her, she grants seven years of prosperity. But at the end of abundance, as we see the bloated pestilent body of the priest who hewed her out of the tree floating down the river, follow seven years of destruction and loss.
Now in the present, Femi (Ramsey Nouah) lives with his deathly ill father and a cheerful, but respectful kid sister. Nouah (the "Lover Boy" of scores of Nollywood movies) plays against type in Femi, an awkward, reclusive asthmatic who barely restrains the torrent of emotion underneath his calm exterior.
The longing stares he gives Mona (Omoni Oboli) as she sleeps against his shoulder on a bumpy bus ride say more about his passion for her than his words to her admit. Femi and Mona have been posted to the region of Araromire for their National Youth Service Corps scheme offering a backdrop for some of the film's most memorable visual images: a stunning waterfall in the verdant jungle, hundreds of National Youth volunteers marching in bleached white uniforms against a dusty countryside. But the woman he loves is still in love with Femi's good friend, her on-again, off-again womanising boyfriend Sola (Kunle Afolayan).
The first time Sola appears he spews profanities at an unimpressed interviewer who refuses him a job because he has not completed his service, the prerequisite for middle-class life. Muraina Oyelami, the famous Nigerian painter, cameos as the academic advisor whose signature Sola needs to authorise his service year. The professor, whose office brims with old books and wooden statues, tells his middling student the legend of the goddess, Araromire, omitting the second half about the bad luck.
When he finally arrives at the Araromire camp, having virtually missed out on the entire basic training, he shoves a bribe into the guard's hand to allow him in. After trekking through the jungle, Femi has an asthma attack and Sola takes advantage of the break to smoke a cigarette, ignoring his friend's coughs. They stumble on a dusty shrine where they find, wrapped in swaddling clothes in a wooden cradle, the statue of Araromire. That night at the camp fire, Mona gleefully shares her good news with Femi-Sola has proposed, she has accepted–and she is pregnant. But from that night, it seems that good fortune follows the two friends who touched Araromire. When a heartbroken Femi arrives home, his sister greets him with a joyful dance their father, standing robustly in the doorframe–has been miraculously cured of cancer. And at work, he gets an enviable offer from his firm to go abroad on a career-cementing international assignment. Sola starts an investment firm and weds Mona, but never loses his wandering eye.
Seven years later, Femi returns to Nigeria a changed man; his confidence and wealth signaled by the cigars he now smokes. Mona is pregnant again and determined to pair Femi with her best friend, Linda (Funlola Aofiyebi-Raimi), a successful fashion designer. Linda is the film's moral compass outraged to discover that Sola is cheating on his wife and a great source of its humor, even as the story takes an ominous turn with her introduction. Mona has visited her old professor, who has recounted to her the second half of Araromire's legend. Her gnawing anxiety proves prescient as she sees her charmed middle-class life melt away Sola loses his job, so does Femi, and then tragedy strikes as she miscarries just weeks before delivery. Convinced that Araromire's evil spirit has invaded her house and her world, Mona throws the statue out. But the figurine returns to its post on Sola's bookshelf the following day. Femi's father suddenly dies. On his wife's insistence, Sola douses the statue in gasoline and burns it, but to no avail. From the ashes on the beach the rapacious Araromire rises once again.
As the death toll rises and Figurine comes to a provocative end, one with a twist, we are left mulling over meaning. Is Figurine a story of a love triangle, friendship, loyalty, betrayal? Or is it about the lingering power of curses, whether or not we believe in fate?
Figurine is certainly a story about persistence. And the story of how it was produced is, too. Director Afolayan's passion and vision drew Ramsey Nouah and other Nigerian art luminaries to work on a self-financed endeavour shot in three months (as opposed to the five-day cycle standard for Nollywood). It was a labour of love and dedication. And it has paid off. The film took home five awards at the African Movie Academy Awards, including Best Picture and Best Actor (for Nouah, who has demonstrated his range in this role).
Muraina Oyelami's poetic paintings grace the walls of the film and Afolayan even used Aofiyebi-Raimi's fashion designer as an excuse to display fashion-forward trends in fabric and design. Toba Gold, the New York-based neo/soul jazz artist, provided the movie's theme song on a soundtrack which should be released as a compilation (hint, hint).
In a country with the world's second largest movie industry, in terms of sheer numbers (Nigeria produces more than 200 movies a month for direct to DVD or home viewing; India's Bollywood takes first place), Afolayan's work stands out. He himself has said that his goal is nothing less than revolutionizsing the Nigerian film industry.