Mourinho praises Bailey for class act in Man United's 2-1 win vs Leicester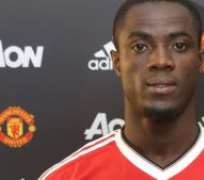 Manchester United manager Jose Mourinho was full of praises for Ivory Coast defender Eric Bailly for his inspirational performance   in their 2-1 win over Leicester City in the Community Shield on Sunday.
Mourinho said he was impressed by the ability of the 22-year-old Elephants player to handle Leicester speedy strikers, including Nigerian Ahmed Musa
Bailly was to was a key figure in the Red Devils' victory over the Premier League champions, allowing the club to claim their first piece of silverware under Mourinho's management. But the Portuguese also credited the Ivorian's central defensive partner, Dutchman Daley Blind, for providing the the Ivorien with the stability he needed.
"I think Bailly was the perfect opponent for that because he is as fast as they are. I know the player he is, but you always have a question mark when a player comes to a new level," Mourinho told BT Sport.
"But to come to Manchester United and play your first official match at Wembley with these responsibilities, without [Chris] Smalling – he was really good. But I have to say that Daley gave him the stability he also needs because I think defensively we were very okay."
Manchester United will kick off their Premier League campaign next weekend with a trip to Bournemouth on August 14.