Conte influence has Juventus target Nemanja Matic rethinking Chelsea exit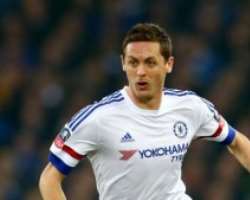 Nemanja Matic is likely to snub the opportunity to replace Paul Pogba at Juventus, with the Chelsea midfielder keen to build upon the special working relationship he has developed with Antonio Conte.
Despite a mixed season in which he struggled to replicate his imperious form of the 2014/15, the Serbian international has been shortlisted by the Bianconeri as the man to fill the somewhat cavernous gap that Pogba is likely to leave should he complete his transfer to Manchester United.
Talks have accelerated over that particular deal in recent days, but Matic has responded to the speculation by insisting that he is happy to stay at Chelsea after positive talks with ex-Italy coach Conte.
"What he said gave me a special feeling," he said. "It was important for me to know I am a big part of his plans. I was happy to hear that.
"Like every player here, I have a good relationship with the manager. I respect what he said about me and of course I liked what I heard.
"I have been at the club for two and a half years and have always given my best every day. Until I am here, I will continue to give everything to the team."
[fncvideo id=372891]
According to the 27-year-old Conte's arrival has given the Stamford Bridge squad a palpable boost ahead of the coming season, with Matic anticipating steady improvement under the Italian.
"He played football at a very high level," he added. "It helps him to know things, to understand us and to show us on the pitch what we can do better, how we can improve.
"We have worked together for two weeks and I can already see he is a great manager, with a great team of coaches. I am sure this team will improve under him."
If, as expected, a move for Matic fails to materialise, Juventus will turn the attentions elsewhere in the search for Pogba's replacement. Zenit midfielder Axel Witsel has also been linked with a move to Turin in recent weeks.