…CHARGES AGAINST EX-EFCC BOSS FICTITIOUS –EL-RUFAI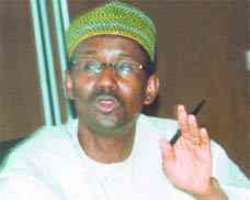 Former Minister of Federal Capital Territory (FCT), Mallam Nasir El-Rufai, yesterday said the charges against the former Chairman of Economic and Financial Crimes Commission (EFCC) Mallam Nuhu Ribadu at the Code of Conduct Tribunal are fictitious.
El-Rufai made the stunning declaration as the Code of Conduct Tribunal dropped the charges against Ribadu.
Expressing his apology for arriving the Save Nigeria Group conference in Abuja, late, the former FCT minister dismissed the allegation against the former EFCC boss.
'I know Femi Falana would give you the details because he was the one that did it all. I felt very, very happy because the case against Nuhu Ribadu which was a fictitious case in the first place, was withdrawn.
'I think it was Osita Okechukwu who said that no matter how bad falsehood runs, it would be overtaken by truth. Nigeria has moved to a point that truth is overtaking falsehood.'
Also, the former FCT Minister apologized to journalists for the unruly behaviour of his driver at the EFCC office on Tuesday. El-Rufai's driver had run through some journalists who demanded to interview him on his interrogation by the EFCC operatives.
Asked about his opinion about the action of the driver, he said, 'Thank you for raising that because it was wrong and I apologize. But we had a long day and my handlers just wanted me to go home but there was no excuse to trample on anybody. I am sorry about it.
El-Rufai dismissed the speculation that the EFCC was trying to provide soft-landing for him, because he was close to the Acting President.
On why his self-exile, he said: 'I like to be back home, there is no place like home.
'You know being in exile gives one the opportunity to think and reflect; being away from one's family and friends also gives you the opportunity to learn. A number of us who read sciences never had time to read philosophy and politics and so on.
In my 23 months in exile, I had to go back to read Plato and Aristotle and all that and I have learnt a lot but one quote that tends to stick to my mind for this meeting and I never came across it until in the last few years, was when Plato said something like, the danger society faces when good and honest men become disinterested in government business is that they will be ruled by worst men and I think that is what has happened to Nigeria.
'I don't know where it began but I think that in the beginning, this country presented its best and brightest in the public service. But somewhere along the line, all the best people either left the country, went to the academia or to work for oil companies, telecoms companies or banks or out of frustration if they have a social conscience and they left the political space and the governance of the country for those I can use one word to describe, even if is too polite to say I call them the worst of men. This is the danger we face.
'What we have seen particularly in the last one year was that the real heroes in Nigeria today is civil society. But for the action of the Save Nigeria Group (SNG) and others who stood up for what was right, I think Nigeria would still be in constitutional crisis and leadership vacuum today.
'We must organize and not agonize. We must end the rule of the class of 1966. Let me explain what class of 1966 is.
These are people that terminated our first Republic and they have been ruling Nigeria either directly or indirectly since then. And I think it is time for us to thank them very politely because we are cultured people and we respect elders and just tell them to go home until we ask for them. Nigeria needs a new direction, a new political platform. It needs new faces in politics and governance,' El-Rufai said.