UWAZURUIKE: COURT ADJOURNS AGAIN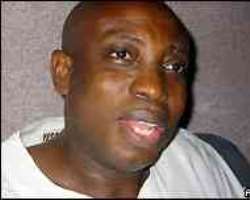 •Uwazuruike
Justice Chukwuemeka Ohakwe of Owerri High Court yesterday again reserved ruling on the bail application on the leader of the Movement for the Actualization of the Sovereign State of Biafra (MASSOB), Chief Ralph Uwazuruike.
Uwazuruike, who is currently standing trial on alleged kidnapping of one Pascal Okorie last year. He was brought to court at about 8.47 am under tight security of 30 anti-riot policemen and 20 prison officials.
Justice Ohakwe adjourned to May 14, to rule on bail application to enable him deal with other ruling before him.
The defence counsel, Mr. Festus Keyamo said the accused person had submitted sufficient evidence to enable the court to grant him bail. He, therefore, said the counter affidavit submitted by the state DPP did not originate from the plaintiff (complainant) rather one Monica, stressing that it was defective and asked the court to strike it out.
The state DPP, Mrs. C. C. Dimkpa, in her submission, argued that the accused was already standing trial on treasonable felony before the current trial and therefore should not be granted bail. But, the presiding judge, Justice Ohakwe overruled her, saying that the content of the counter affidavit would not debar him from granting the accused person bail if his application for bail has merit.
Fielding questions from newsmen after the adjournment yesterday, the defence counsel, Keyamo, deplored the counter affidavit submitted by the state DPP, describing it as another means to continue to keep Uwazuruike in prison.
'We complained about the delay by the DPP, this matter was adjourned eight days ago and I think it is completely unethical for them to serve us counter affidavit today in the court. Despite the fact that the court has given us the date for the ruling, we are deploring the delay tactics by the state to frustrate and keep Uwazuruike in prison custody.'
The trial of the MASSOB leaders yesterday caused heavy traffic jams in Owerri, as major roads, in the town were closed for traffic by armed policemen. Two main roads leading to the seat of government were under lock while pedestrians were searched to their pants.
It was gathered that many commuters, mostly civil servants and students, had to abandon their vehicles and trek long distances.
Security agencies including army personnel were deployed to some strategic places in the town with two police armoured personnel carrier (APC) were also on hand to quell any possible breakdown of law and order.