Antonio Conte promises additional signings to bolster Chelsea squad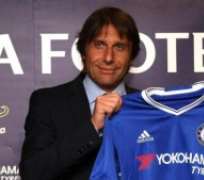 Other than maybe the "blazing inferno" line, Antonio Conte's introductory press conference was devoid of obvious headline-making soundbites.  Good.
But that doesn't mean it wasn't full of positive intentions, positive statements, and plenty of confidence-making for the season ahead.  We've already covered most of  the best quotes from the publicly viewable portion of his first press conference, but this one slipped a bit under the radar.
When asked about the level of competition in the Premier League and any transfer plans Chelsea may yet have to help us get back to where we belong, he avoided mentioning anything too specific, but he stopped short of a complete stonewall.
"Now, some people can think that Chelsea are not favourites for the title and I think that they can be right after last season. Also, you see that we have signed only Batshuayi. But we are ready. We are talking with the club and we know that this club — the team — needs to reinforce. I am sure that in the coming days we can reach our target to reinforce the team to go closer to the other teams that now seem to stay higher in the table compared to Chelsea."

"In the coming days, we can buy one, two, three players. Players that can reinforce us for the season as it will be very, very tough."
We'll see whether that means N'Golo Kanté, or somebody out of the blue like Batshuayi, or some other random transfer.  But it definitely sounds like there are more signings to be made and despite the relatively slow start Chelsea made to the transfer window , we're not going to repeat the mistakes of last summer.
"History says that in the [Roman] Abramovich era, Chelsea are always in the Champions League, and it is important to get back very soon, to fight for the title, to be there at the end of the season."

-Antonio Conte; source:  Telegraph

Work. Fight. Passion. And a few signings to reinforce the team where needed.

"We must take a player who can adapt to our idea of football, to our philosophy."

"It's not right to say the names, no, because these players are now at other teams.  I don't like that other managers or other clubs speak about my players. I don't like to speak the same."

-Antonio Conte; source:  Get West London